Innovation
Players' Strategy
France
REX: Orange Celebrates Promising Results for their Financial Offers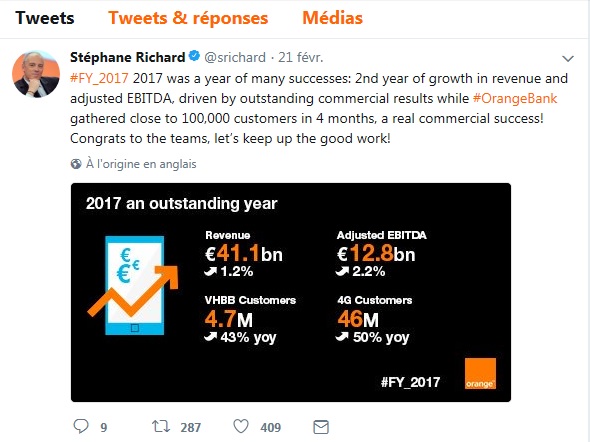 Upon reporting their annual results, Orange insisted on two successful offers: Orange Bank –soon to reach the 100,000 customers milestone– and Orange Money which is still steadily growing.
Stéphane Richard, whose re-election as CEO of the Orange group is now certain, reported some figures during their annual earnings presentation. He also commented on their successful flagship financial offers: Orange Bank and Orange Money.
Orange Bank is expected to exceed the 100,000 customers milestone in the coming days. Its growth rate has been remaining steady since it was launched four months ago. Ten days after the service was officially made available, 30,000 customers had already subscribed, and 55,000 two months later.
Orange Money, for its part, managed to exceed the objective set out by the group (30 million customers in 2018). It reported 37 million customers worldwide at the end of 2017 (including more than 12 million active users). Revenues for this service also increased sharply (+58% during Q4 2017).
Comments – Encouraging start for Orange's banking service
Orange Bank is gaining momentum as a neo-banking player on the French market. Once its first steps completed, customers' curiosity –fuelled by various advantages added by the mobile carrier upon opening an account– no longer could account for this success. This bank seems to have met its audience. The reported 100,000 customers include 30% existing subscribers of Orange mobile services. Inactive, or merely curious, customers should soon be discouraged by the fees applied on inactive accounts (5 euros per month).
In terms of financial results, their focus on increasing customer bases, and significant IT investments in 2017 (61 million euros), heavily weighed on Orange Bank's balance sheet (93 million euros lost, for a net banking income of 73 million euros). Stéphane Richard did however set a 4-year goal to reach the break-even point.
Also, the Bank should soon expand its services through the addition of consumer credit offers in Q1 2018. And the app's PFM tool (managed by Moneythor) is expected to be enhanced with predictive features in 2018, too. Eventually, when it comes to international reach, Orange selected a second market: their Spanish banking subsidiary would be scheduled to open in 2019.