Blockchain
Payment
France
REX: Good Start for Ma French Bank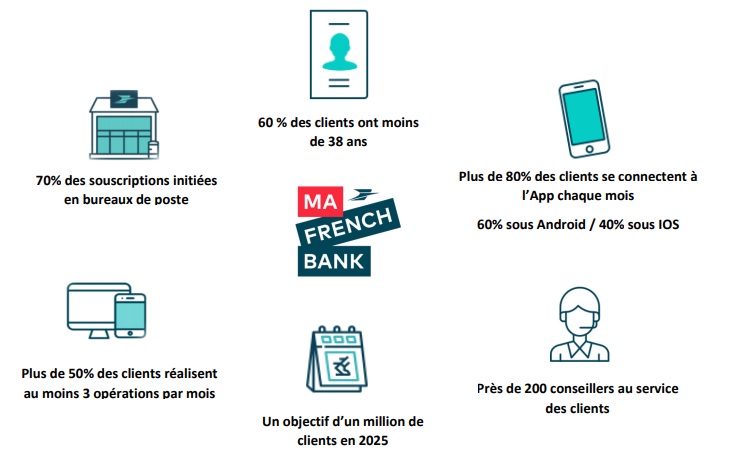 FACTS
La Banque Postale highlights initial results for their challenger bank Ma French Bank. They already report higher results than expected and emphasise a successful hybrid model merging digital and brick-and-mortar networks.
This mobile-based neo-bank is intended for customers ages 18 to 35 and was officially launched in July 2019.
Less than six months later, La Banque Postale claims a commercial success.
Ma French Bank: Key Figures

100,000 customers acquired in 4 months
2,000 post offices selling the offer and 200 dedicated remote advisors
More than 80% of their customers connect to the app at least one a month
More than 50% of their customers carried out at least 3 banking operations

Considering these results, La Banque Postale was able to confirm they planned for Ma French Bank to achieve the 1 million customers' milestone by 2025.
CHALLENGES
Aiming for younger customers. Ma French Bank has been upholding a clear goal from the start: acquiring younger customers. This goal has been achieved as 60% of their subscribers are under 38.
Making the most of a one-of-a-kind distribution network. They also managed to rely on their existing network: 70% of Ma French Bank account subscriptions were conducted in post offices.
Making mobile banking more popular. La Banque Postale intends to further focus on customer acquisition and increase their offers' popularity nationwide. Their network of 9,000 post offices will in due time be able to sell Ma French Bank. Besides, an insurance offer may be added later on.
Measured risk. Another encouraging factor: 50% of Ma French Bank customers are new customers for the group, preventing it from cannibalising existing offers as initially feared.
MARKET PERSPECTIVE
La Poste started a large-scale diversification campaign years ago. The successful launch of Ma French Bank is another growth relay for the group's traffic and overall activities. They also invested more than €100 million in this project of strategic importance.
These initial results confirm the relevance of a hybrid model for French challenger banks. Likewise, Nickel, for instance, relies on a network of newsagents, and Orange Bank also claims a large proportion of subscriptions in store.