Payment
FinTech
United Kingdom
REX: Fidor Bank Severely Affected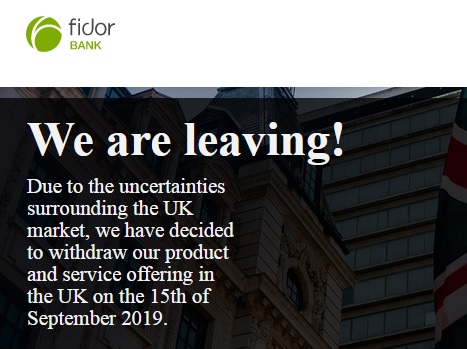 FACTS
Since launch, the German challenger bank Fidor focused on keeping their community alive using financial services. But their concept hasn't yet proved successful in Europe. Their integration in BPCE turned out to be a failure and their UK subsidiary is now closing down.
This alternative bank has been active in the UK since 2015, and they even launched an aggregation platform for financial services in 2017. But they must now step down.
Fidor Bank announces they will be shutting down their local services on September 15, 2019. Their customers' accounts and cards will then be disabled.
They will be withdrawing their online portal (taking down their UK website 15 days later) and closing their local social media accounts.
Key Figures

2009: Fidor was launched and granted a European banking licence
2017: Acquisition by BPCE
Nearly 1 million customers
CHALLENGES
Running away from a political climate. Officially, Fidor Bank stresses the political uncertainties surrounding the UK market as main reason for terminating their UK services.
Tough acculturation for their shareholder. Their buyout by BPCE didn't allow Fidor Bank to meet their expectations. Worse still, a cultural conflict started raging between these groups. BPCE set out to invest €140 million in this FinTech and eventually reinjected €89 million in Fidor Bank before losing faith in their investment. They even preferred cancelling its French launch. The group would not be looking into a potential acquirer for Fidor.
MARKET PERSPECTIVE
Fidor Bank stood out as a pioneer on the European market for challenger banks. In 2016, they went for a strategic shift and agreed to their acquisition by the French group BPCE. This transaction was supposed to provide them with support from this long-standing industry player, while enabling them to remain independent when it came to operations and management processes.
This community banking player must now reconsider their ambitions and international rollout. It remains to be seen if their withdrawal from the UK market will be followed by other announcements…