Revolut hits record losses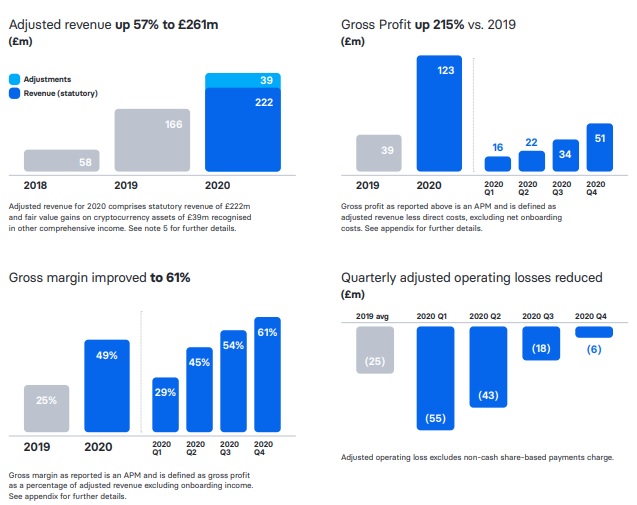 The British neo-bank Revolut has just published the results of its activity for 2020. Its recently posted profitability is now giving way to significant losses, which do not, however, hinder its progress on all other indicators. A growth that is obviously expensive, as the ACPR report on the financial situation of FinTechs and neo-banks pointed out a few months ago.
FACTS
When releasing its results for the year 2020, Revolut naturally preferred to highlight certain figures:

its gross margin multiplied by 3 in 2020,
57% increase in revenue from £166 million in 2019 to £261 million in 2020,
a 45% jump in the number of its customers, now estimated at 14.5 million for individuals and 500,000 business customers
gross profits that have increased by 215% from £39 million in 2019 to £123 million.
However, the FinTech is showing a sharp increase in operating losses (+60%). Over the whole of the 2020 financial year, they have thus increased from £107 million in 2019 to £168 million today.
CHALLENGES
The superapp model: Revolut attributes the growth of its customer portfolio to the pandemic, in part, but mainly to the relevance of its strategy, which combines the model of a financial superapp with paying offers that attract more and more customers (+51% for Metal and Premium customers).
A very fragile profitability: Revolut attributes the increase of its operating losses to :

the increase in its administrative costs, which have more than doubled from 125 to 266 million pounds sterling;
its investments, particularly in innovation (24 new products launched in 2020), which also includes recruitment and investments in compliance;
its international deployment (in the United States, Australia, Japan and soon in India): unlike its competitors, notably Starling Bank, which has taken a much more cautious approach since the health crisis, Revolut has very quickly focused on international expansion, which has cost it a lot in terms of investment. In comparison, Starling, which has been profitable for several months, paused its plans in 2020, then resumed opening new countries in 2021.
MARKET PERSPECTIVE
For comparison, N26 recently reported losses of €100 million (compared to about 200 for Revolut), for about 7 million customers.
Revolut, valued at $5.5 billion, is considering a new round of financing that could take the British startup to a valuation of over $20 billion.
It has also started the process of obtaining a banking license in the UK, which would allow it to offer loans to its British customers.