Qonto partners with Infogreffe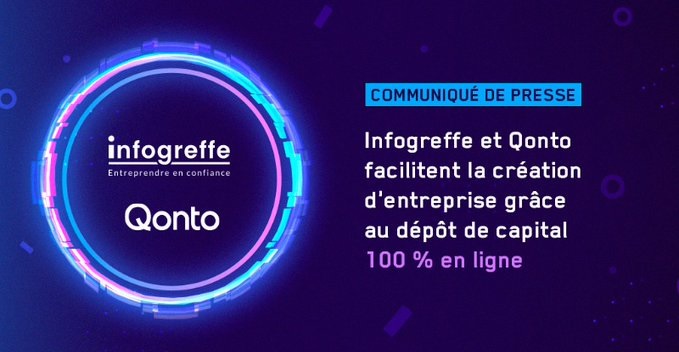 Qonto has just announced an important partnership with the trade and companies register, Infogreffe. Its objective is to simplify the registration of newly created companies thanks to a quasi-automated system triggered at the time of capital deposit. The Unicorn thus illustrates its full potential to defend its flagship promise of facilitating the financial and administrative life of entrepreneurs.
FACTS
Qonto allows business creators to create an account for their new company thanks to a simplified process of capital deposit 100% online, initiated from the Infogreffe website.

The Economic Interest Grouping (EIG) of French commercial court registrars combines the company registration procedure with the possibility of opening a Qonto account without leaving its interface and depositing capital.

A simple transfer is all that is needed to validate the procedure, all without leaving the Infogreffe site. A digital filing certificate is then issued within 72 hours.
CHALLENGES
Simplifying administrative tasks: The first promise of this partnership is to simplify administrative tasks for company founders. A promise that focuses on giving entrepreneurs the time to do business rather than dealing with administrative tasks.

A competitive argument: The FinTech Qonto is necessarily offering itself a strong competitive argument thanks to this partnership, by becoming the first FinTech to quasi-automate the creation of an account and the deposit of capital via the filing of a company's articles of association. Qonto is integrated into the very heart of time-consuming administrative procedures and regulatory obligations.

Reinforcing its pioneering status: Infogreffe presents itself as a pioneer in French LegalTech and a major player in the distribution of certified legal information for companies. Its association with Qonto and, above all, the implementation of this partnership, represents a new approach that Infogreffe can be proud of having initiated.

Improving the fight against fraud: The automation of processes is also seen as a KYC tool. The certificate of deposit of funds issued by Qonto is added directly to the company's digital envelope for the registries.
MARKET PERSPECTIVE
The offer is now directly accessible from the Infogreffe website and thus automatically disrupts other proposals from Qonto's competitors.

This combination should help Qonto achieve its high customer acquisition targets. Although Qonto is counting on 75% of new customers outside of France, the Unicorn nevertheless wants to cover the financial needs of one million SMEs and self-employed people in Europe by 2025.