Qonto launches a time-limited business card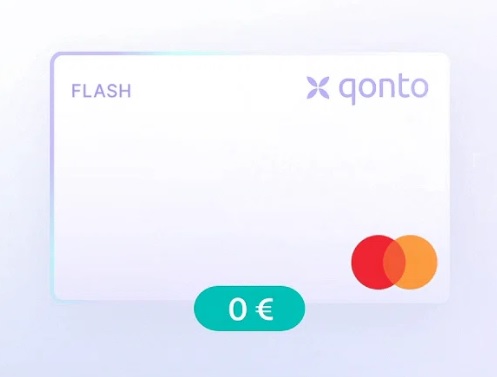 Qonto, a FinTech dedicated to professionals, continues enriching its offer with a card called Flash. It adapts to the management of employees' occasional expenses by giving more meaning to the expiration date of the cards.
THE FACTS
The new Flash card launched by Qonto is intended for employees of companies that are customers of the FinTech's Business and Enterprise offers. They will now be able to use a new digital payment method to pay for episodic expenses on behalf of their company.
This card is based on the prepaid model. It can be loaded only to cover expenses that have been estimated in advance by the employee and the company.
Flash cards are virtual cards that can be used to make purchases in physical stores or online via Apple Pay or Google Pay mobile payment services.
The settings of the Flash card are twofold, they concern:

the amount credited to the card, set between 5 and 20,000 euros (a single day of use, for a single purchase),
the validity period of the card (to pay for repeated purchases over a given period, with the possibility of reloading the card remotely if necessary).
Flash cards expire automatically once the credited amount has been spent or the validity period has passed.
All one-time expenses can be paid with the card:

travel (plane ticket, train ticket, car rental,...),
purchase of equipment,
bills for client lunches,
team activities, ...
Qonto will allow its customers to create as many Flash cards as needed, to cover all their employees.
CHALLENGES
Simplify (again) the administrative tasks: The Flash card is presented by Qonto as a tool to facilitate the management of expense reports and above all, not to have to worry about possible risks related to the distribution of cards, as the Flash card expires automatically after use. Companies no longer have to enter any administrative action after validating the issuance of cards.
Offer a new benefit to employees: Employees of Qonto's client companies do not have to declare their expenses after applying for a flash card, nor do they have to wait for a reimbursement afterwards. They can focus more on their work, whereas processing an expense report can take up to 30 minutes, according to an Expensya study.
Take advantage of a high-potential market: According to the same study, French employees spend an average of €2,456 per year on expense reports, 42% of which is spent on catering.
MARKET PERSPECTIVE
The management of expense reports and business expenses represents a high potential market for many players. The competition is very open since it concerns banks, start-ups, but also players in catering services or financial captives.
A Danish FinTech, Pleo, has even chosen to make business expense management its core business, taking advantage of the market's dynamism to finally establish itself as a unicorn on a European scale.