PSA Launches a Mobile App for Car Credit Applications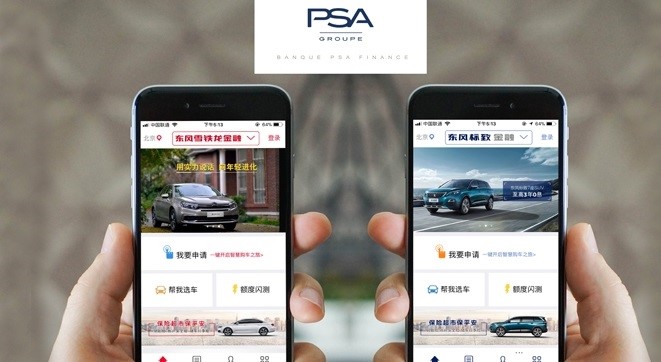 Following a rather unfruitful year in China, the French manufacturer stresses their competitive impact and local implantation. They are unveiling a new app allowing Chinese customers to apply for a credit line in a matter of minutes from their smartphone.
The new app called Dongfeng PSA Finance (in Android and iOS) is designed for those seeking to buy Peugeot and Citroën car models. The point is to improve the customer process and make it easier for consumers to access credit services.
This is a market first in China. The app relies on several technologies including Artificial Intelligence, optical recognition, face biometrics and a digital signing procedure.
Customers would choose the type of car and financing service they wish to subscribe. They scan their proof of ID and payment card; all procured documents are verified through optical recognition. The applicant then sends a picture or video so his identity can be verified via face biometrics. Eventually, he needs to answer a set of ten questions: his request is then processed, and the credit application can be approved in less than 10 seconds.
Comments – Digital technologies as performance levers
PSA keeps focusing on digitalising their offers and improving their competitive position. In October 2017, they rolled out a mobility-oriented app in the US, enabling its users to compare the location, characteristics, and cost of various means of transportation. This service matched the group's US ambitions. As for Dongfeng PSA Finance, it may be viewed as an entry point for PSA Group in China. However market specific, both these services pertain to a same ecosystem where room has been made for the car industry.
Dongfeng PSA Finance is first meant to streamline customers' accesses to credit services but should later on be expanded through the addition of insurance offers, or car-related services, such as extended warranties.