Innovation
Technology
France
Oney and La Mobilery Rethinking Credit Application Processes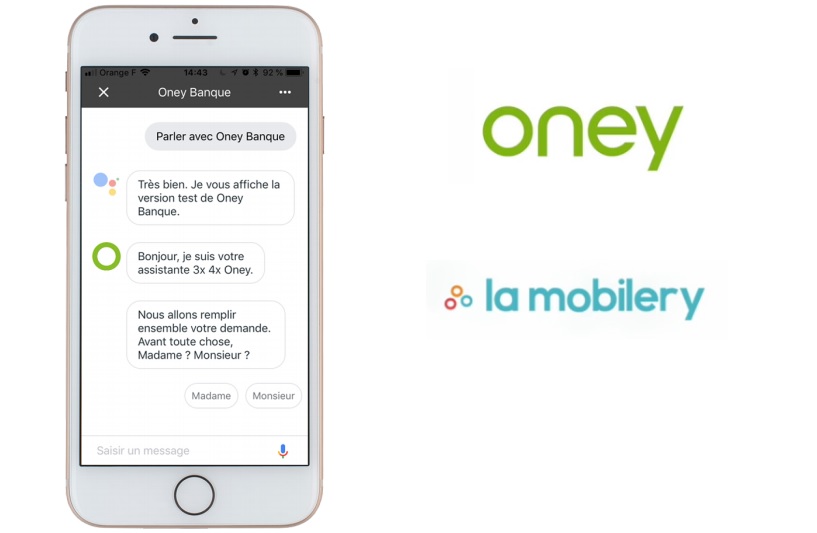 The financial institution Oney relies on Lille-based digital agency La Mobilery to rethink their credit application processes. The selected channel, Google Home, stresses Oney's ambitions in making room for innovative customer processes.
The partnership between Oney and La Mobilery led them to create a new customer process based on Google's voice assistant. This process applies to spreading payments into 3 to 4 interest-free instalments at Oney's partner merchants. This service has been called "Easy ID, easy payment".
Customers may apply for a loan using their smartphone or Google Home speaker. The application form is then completed via voice recognition, but customers may choose to switch to text mode whenever they need to: for instance, for specifying sensitive personal information.
Once this form filled out, it is sent via e-mail to the user, who may validate his request and digitally sign his contract. Oney is also planning to include a face recognition module enabling customers to make transactions. La Mobilery is currently working on this module. A PoC could see the day in 2019.
Comments – More than just one channel: building on several technologies
Oney and La Mobilery featured their joint credit application solution during the 4th Paris Retail Week fair on innovative technologies for the commerce industry. This event allowed them to shed light on a solution they are still working on.
Voice assistants started to be included in consumers' purchasing experience several months ago. In 2015 already, Amazon's connected device Echo helped streamline transaction processes, and Samsung introduced a shopping service based on their Samsung Family Hub fridge in 2016. Oney and La Mobilery are taking this one step further via proposing instalments from a similar channel. Oney, however, remains pragmatic since text-based interfaces are still available. They are, indeed, aware that these technologies are only new, and use cases still need to actually gain momentum. This financial institution intends to assist merchants through investigating these innovative processes: they draw their attention considering the interest paid by industry giants such as Amazon, and the number of announcements that have already been made.
Video: https://youtu.be/KH3bSIUZemo