"Objective Moon" for Binance and France FinTech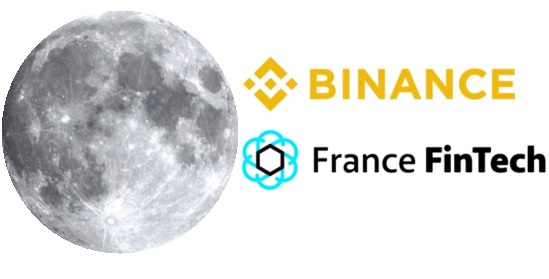 A new major initiative in the crypto-currency market in France, the global benchmark for crypto-asset exchange and management platforms Binance has just partnered with France FinTech to develop a joint initiative. This announcement illustrates the race led by many countries to establish themselves as a market reference.
FACTS
The France Fintech association has just signed an unprecedented partnership with Binance to create a leading crypto and blockchain initiative in France.

Named "Objective Moon", it will be able to rely on the €100 million funded by Binance to support the project.

"Objective Moon" is built around three key projects:

the development of a research and development center,

the creation of a DLT (decentralized ledger) technology gas pedal

the launch of an online training program to develop local talent in the blockchain and crypto industry.

OpenClasroom and Ledger are partners with France FinTech and Binance on the latter educational project.

Minister of State for Digital Transition and Electronic Communications Cedric O was present at the announcement of the launch of Objective Moon.
CHALLENGES
Providing a benchmark role for France: France FinTech underlines its ambition to enable France, thanks to Binance's support, to establish itself as one of the world's leading players in the international crypto-asset and Blockchain market.

Gaining a new status: Binance applied for PSAN (service providers on digital assets) status, with the AMF in 2020. This status has still not been granted, but its support for France FinTech and its commitment to the country should support its case.
MARKET PERSPECTIVE
Crypto-currencies are regularly in the news and are seen as a revolution for financial services around the world. For states and their governments, the goal today is to regain control of a decentralized economy by developing their own version of crypto-currency backed by their official currency.

The eNaira has just gained a significant lead in this race by ensuring its official launch while the Bahamas and China are also competing for this pioneering position.

In France and Europe, experiments on the digital Euro are continuing, as are initiatives by innovative players such as the start-up Angle Labs, which has just launched a stablecoin based on the Euro.