NatWest Tests a Biometric Key Ring for Payments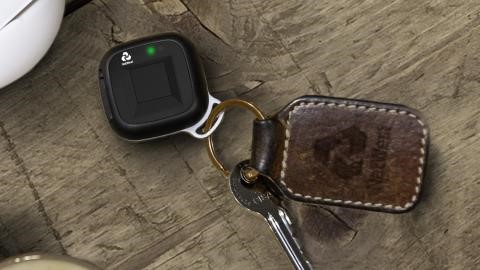 FACTS
The British bank NatWest started issuing payment key fobs equipped with biometric sensors.
Goals: enable their customers to make contactless payments without having to pull out their card or smartphone.
NatWest teamed up with Visa and Giesecke+Devrient Mobile Security to trial this solution in the UK.
This connected item lets customers carry out contactless transactions of up to £100 (€119).
How it works

Users would register their fingerprints from their home, through a dedicated mobile app
The key rings are compatible with EMV-compliant POS devices
At checkout they bring the key ring closer to the POS device and place their thumb on the biometric sensor to validate their transaction.

Roughly 250 customers will be contributing to the pilot phase expected to last 3 months.
CHALLENGES
Contactless payments successful in the UK. According to a recent report, the number of contactless payments hit 7.4 billion in 2018 in the UK, +31% year-over-year (Source: U.K. Finance – UK Payment Markets 2019, June 2019). Biometrics could be one way to enhance this payment process.
The point for financial institutions is to hit the right balance between security and seamless customer experience.
MARKET PERSPECTIVE
In October 2019, NatWest was the first bank in the UK to issue biometric payment cards. This new announcement is in line with the tests they conducted on this contactless payment card.
Earlier this month, Barclays unveiled an enhanced version of their biometric reader, implementing veinID technology.