Money Walkie reinvents the digital wallet for kids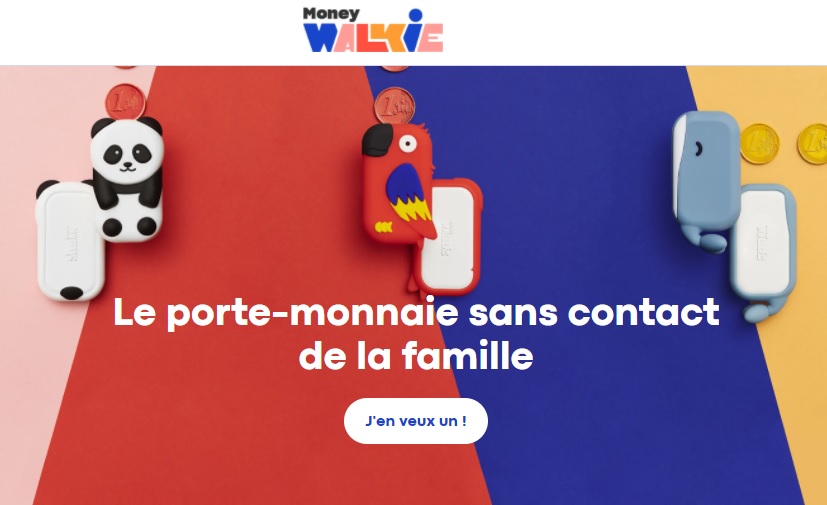 FACTS
A new French start-up has just joined the network of Treezor and Mastercard partners.
Called Money Walkie, it offers a connected wallet allowing young children from 7 to 13 years old to pay contactless at the point of sale for small daily expenses. 
Walkie is presented as a playful and educational tool to safely entrust money to children. 
The FinTech is furnishing a connected object, the size of a pebble, combined with a customizable cover with colorful and friendly animal shapes.
Walkie is equipped with an NFC chip and Mastercard's contactless technology, making it possible to pay at all merchants equipped with a contactless payment terminal.
The token can be recharged from an application managed by the parents. Each transaction debited, with a maximum limit of 50 euros, results in an instant notification to the parents' smartphone.
In addition, the parents' mobile application allows to : 

track children's spending,
block the token if necessary (in case of loss for example),
set payment limits,
select a limited list of merchants to spend the funds stored.

Pricing : 

the walkie costs 30 euros with its cover
each additional cover costs 9 euros
two options for user fees : 

1 euro per top-up
or a subscription at 1.90 euro per month for unlimited top-ups 
CHALLENGES
Relying on pedagogy for youngest children: Money Walkie implements pedagogy and family involvement with two objectives, the financial education of children and the opening of dialogue between parents and children on the subject of money. Connected objects also play a major role in the development of financial services for the youngest. Practical and remotely controlled by parents, they offer an alternative to traditional banking packages. This is how Money Walkie is presented to parents who do not wish to equip their child with a traditional bank card.
A favorable context: Money Walkie and Treezor are also counting on the favorable economic situation for contactless payment, which has further increased its penetration by the end of 2020. 
MARKET PERSPECTIVE
The end of 2020 was also marked by the launch of Kiwip, a connected watch for children, with payment embedded through a GoCardless feature. 
Last September, Apple also launched an affinity version of its payment service on the Apple Watch, aimed at younger children. Previously, banking players have also explored this path, such as ASB, Credit Suisse and Ernit with their connected piggy banks.
KEY FIGURES 

2019 : creation of Money Walkie
+ More than 1,000 Walkies already booked
October 2019: prize for the best BtoC offer and best social impact awarded by France Fintech
December 2020: commercial launch of its first Walkies.