Leasys and FCA Bank Try Short-Term Leasing via Amazon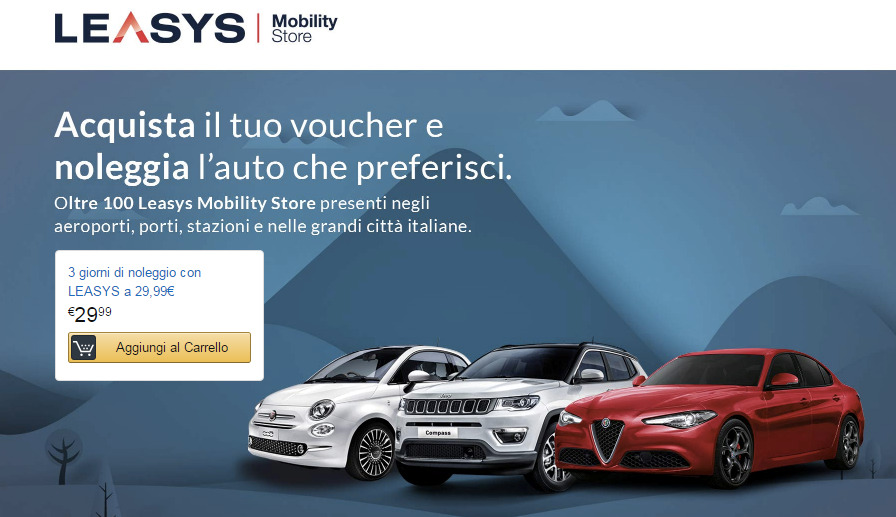 FACTS
FCA Bank and Leasys keep working together and just opened 100 Leasys Mobility Store in Italy. Through these stores, companies will be able to feature various mobility-related solutions relevant to their customers' needs and habits.
A short-term leasing service is also available via Amazon.it:

Customers may purchase a voucher/code from the e-commerce site,
They receive this voucher by e-mail and register via www.leasysrent.it/amazon,
They choose the place and date to pick up the vehicle at least 24 hours before the rental period starts,
They book online, choosing a car model among available offers,
They may sign their rental contract at any Mobility Store across the country.

By way of incentive, in June and July, Leasys offers 3-day car rental vouchers for €9.99/day, or €29.97 altogether.
CHALLENGES
Matching new mobility-related habits. With these points of sale, Leasys enters the largest Italian cities, train stations and airports. They need this coverage to match customers' consumption habits and lifestyles when it comes to mobility (car-sharing, electric mobility, etc.) and interest in leasing offers. These stores are intended to showcase a global mobility-related offer.
Also, Leasys relies on Amazon's popularity to increase their visibility and expand their custom-made service. Amazon would then stand out as an actual partner on the Italian financial sector.
MARKET PERSPECTIVE
Leasys, an FCA Bank unit focusing on leasing and mobility services, already unveiled rental offers and, a few months ago, launched U-GO: a free and open platform for individual customers. Later on they introduced a pay-per-mile long-term leasing solution without advance payment required, Jeep Miles.
Their new offer sends back to a partnership from 2016, whereby Leasys was the first company featuring leasing products on Amazon through the Be-Free offer.
FCA Bank and Leasys would plan to open 400 Leasys Mobility Stores by 2020.