La Banque Postale facilitates the collection of funds by the landlord Sequens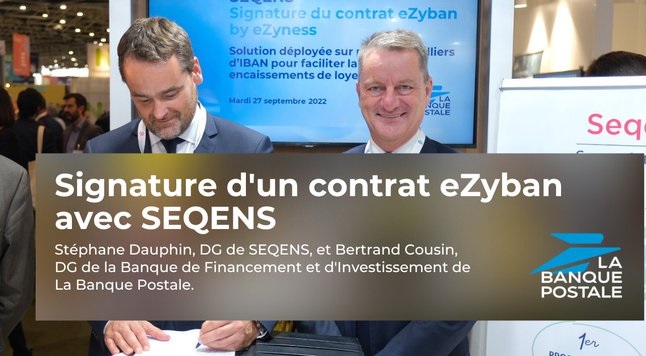 La Banque Postale has just formalised a new partnership with Seqens, a global housing player in the Ile-de-France region and subsidiary of the Action Logement group. This partnership concerns the optimisation of the social landlord's collection flows but also underlines the commitments of two companies to a mission.
FACTS
eZyness, a payment and electronic money institution and digital subsidiary of La Banque Postale, is deploying its eZyban solution within the management systems for rent collection by transfer of the landlord Seqens.

The signing of a contract for this deployment has just been announced by La Banque Postale, which is thus counting on a new social partner to extend eZyban.

As a reminder, this solution should enable creditors to automatically identify the origin of the transfers they receive, thanks to the referencing of tenants via virtual IBANs.

How does eZyban work?

eZyness communicates a list of IBANs to the lessor,

The latter sends a unique reference to be associated with an IBAN,

The latter transmits a unique reference to be associated with an IBAN, and then communicates this IBAN to its debtors,

The debtors pay by transfer via the IBAN provided,

each collection is credited to the lessor's bank account, associated with the debtor's reference.

The solution also includes tools to simplify the administrative management of payments received. An online portal provides a global view of operations, a detailed daily report of processed operations and a monthly summary.

The solution was tested with Seqens in early 2022. The test proved to be a success as eZyban is to be widely deployed within Seqens' systems by the end of the year. This will involve 7,500 Seqens tenants who pay their rent by bank transfer.
CHALLENGES
Automate the identification of payments and reduce fraud: The raison d'être of eZyban is to secure the financial management of payments by transfer. The solution represents an additional tool in the fight against fraud as it does not require the distribution of the creditor's IBAN.

Simplify accounting management: In addition to this security argument, eZyban also dedicates a part of its service to automating accounting reconciliation operations and thus represents an optimised administrative tool and a means of reducing a time-consuming activity.

Supporting its commitments: Seqens, like La Banque Postale, can boast of having become mission-driven companies during 2022. Among their commitments, that of making payments more reliable in a tense economic context is presented as a step forward for lessors and their tenants.
MARKET PERSPECTIVE
La Banque Postale highlights its role as a partner to 8 out of 10 social landlords. This role, and the dissemination of its services to these social economy players, represents one of the aspects of the French bank's commitment to the inclusion and development of social housing.