Players' Strategy
International
Klarna puts a foot in personal finance management with "Money Story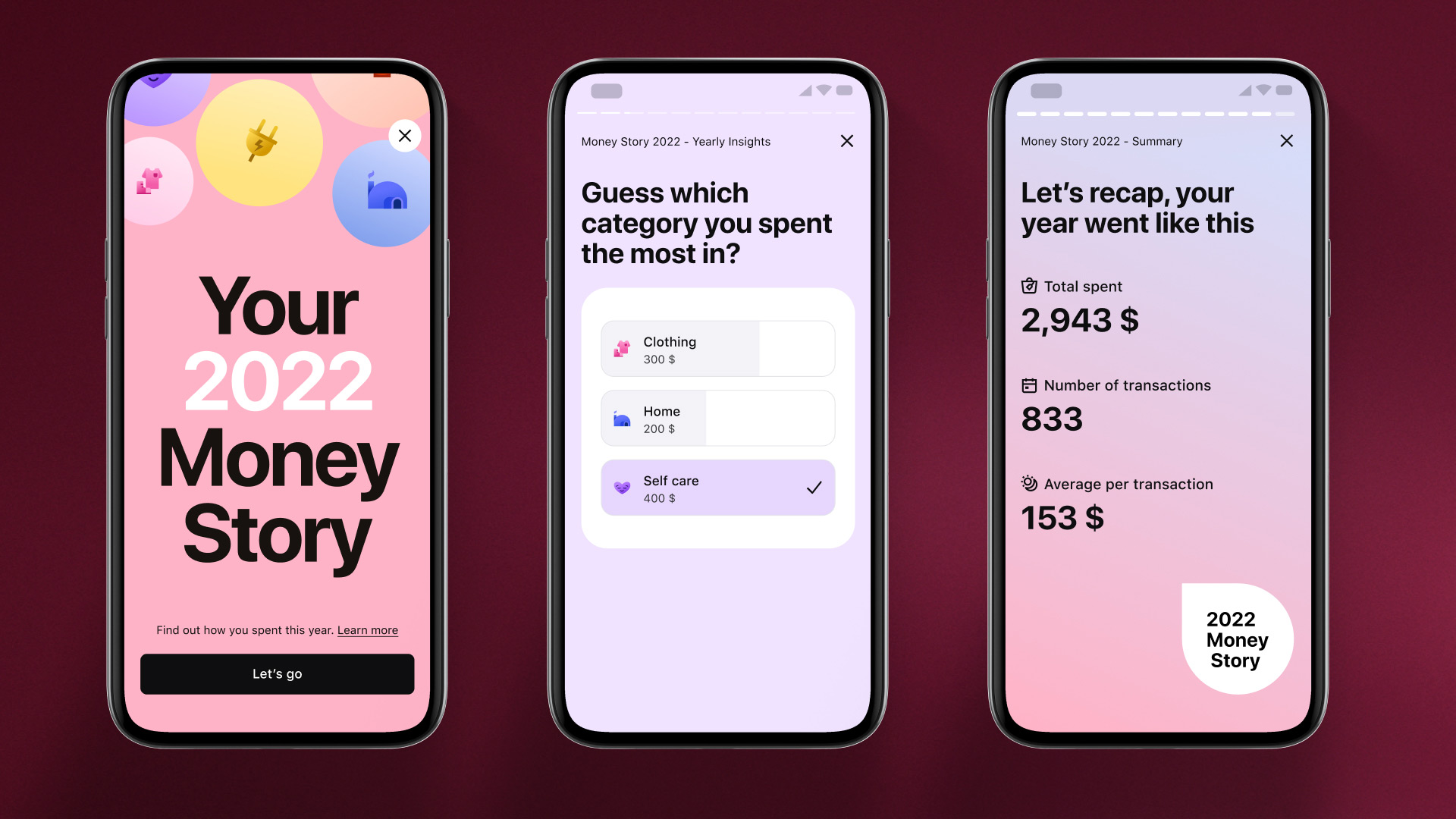 Inspired by Spotify's playbook, Klarna has launched Money Story, a personal spending summary for 2022 that provides consumers with useful information about their spending habits. The BNPL giant is thus taking a step towards personal finance management by enabling its customers to convert these movements into smart habits for financial well-being.
FACTS
Consumers in the US, UK, Sweden and Germany can now view their financial history for free in the Klarna app. Klarna Money Story, provides a summary of personal spending for 2022, providing information on spending habits.

Money Story, is an animated format popularised by social media, including Spotify, that highlights consumption habits in a gamified and fun way.

The aim of Money Story is to provide consumers with clear and comprehensive information about spending habits that they can then convert into financial goals for 2023, including using Klarna's financial management tools.

In addition to the 2022 spending level, consumers receive segmented information monthly on the merchants and categories of spending done with Klarna (app, card or in partner shops).

To help consumers turn their Money Story information into smart spending habits, Money Story encourages each user to discover and test Klarna's free PFM tools, such as budget tracking and monthly spending breakdowns.
CHALLENGES
Budgeting is an increasingly important topic for BNPL players: Spending management is one of the most popular New Year's resolutions for consumers in the US each year. In its Klarna Holiday Survey 2022, saving more or spending less was the second most popular resolution in 2023, ahead of resolutions such as exercising more and losing weight. For the fractional payment industry, this topic of financial wellbeing has become essential for several months. For Klarna it is a way to reassure legislators about its ability to support customers in healthier financial habits.

Gamification to help consumers keep their resolutions: with animated questions and quizzes that encourage users to think about where they think they will have spent their money in 2022, Money Story aims to make money management more fun and engaging. This is an approach that can be found in other players, such as Lydia.

Making financial wellness accessible to all via new features: the Klarna app offers financial wellness features with price drop alerts, automatic coupons and a new price comparison service that makes it an interesting app for budget management and smart shopping. This is a real evolution of strategy for Klarna as it has evolved into a personal finance management app over the months, with social features like spotlight or even Clarity AI's green tips.
MARKET PERSPECTIVE
Klarna, founded in 2005, has over 150 million active users worldwide and records 2 million transactions per day. More than 450,000 global retail partners (including H&M, Saks 5th Avenue, Sephora, Macys, IKEA, Expedia Group and Nike) have integrated Klarna technology into their online and in-store payment solutions.

In March 2022, Klarna launched "Pay in 3", a payment plan that spreads the cost of purchases over three interest-free installments. In the "Pay later" category, consumers now have 30 days instead of 14 days after receiving the goods to pay the bill. More recently, Klarna signed a partnership with Ingenico to deploy BNPL in shops.

Smart and responsible consumption is growing, particularly among retailers and the financial sector. Recent examples include the Banque de France's gamification initiative with its budget management game that helps young working people better optimise their spending, and the automatic savings app, Plum, which recently launched a new feature, the "Naughty Rule", to help customers save automatically based on the recurrence of purchases they consider objectionable.