Joompay officially launches in Europe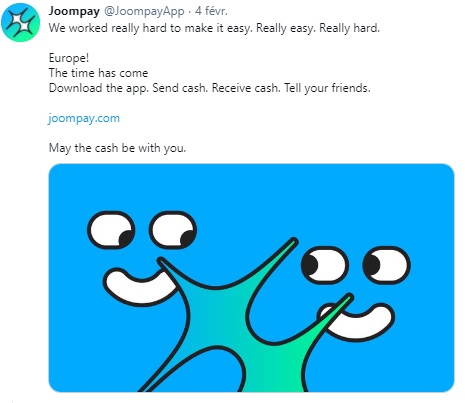 FACTS
is a Russian mobile instant P2P payment service, developed by the e-commerce platform Joom. FinTech obtained its license last November.
It is now officially launched in Europe.
After months of pre-registration, the first European users will now be able to use the JoomPay payment service.
As a reminder, the mobile application allows its users to send and receive money between individuals, instantaneously and free of charge, by simply entering the recipient's e-mail or phone number.
It also offers other services for :

pay invoices with several people
make online purchases
send money to a recipient in another country
share a personal link to initiate payments
collect money in free prize pools
receive donations
The service is now accessible to Luxembourg users and will be open in the coming weeks to all European Union countries.
CHALLENGES
Presenting itself as a pan-European player and leveraging synergies with its parent company: the Joom marketplace is aware of the level of competition in the European peer-to-peer payment market, which has a large number of solutions spread across the globe. In order to differentiate itself, it positions as a pan-European player. Moreover, the strong audience of its e-commerce site, everywhere in Europe, will support its payment solution. All the more so as its financial services create a virtuous circle by being linked to advantages on the e-commerce platform.
Reaching all audiences: JoomPay will not only target individuals. The service should also open up to professionals later on, with features specifically designed to meet the needs of independent merchants and small businesses.
MARKET PERSPECTIVE
Joom has 300 million users to date in Europe. This solid customer base allows it to aim for high targets, even though JoomPay will have to impose itself on an already highly addressed market.
In its beta version, JoomPay would have conquered 15,000 users.
To support its development, JoomPay is also counting on its partnership signed last December with Visa, by offering cards linked to various advantages (cash-back for example, which can be used on its marketplace).