JD.com Soon to Open Next Generation Stores, Too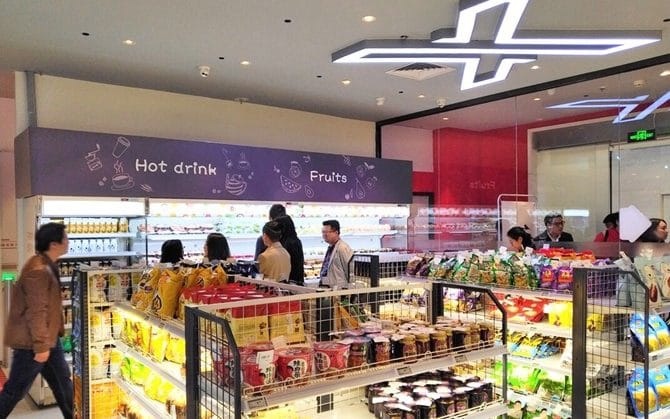 The Chinese retailer JD.com is planning to open next generation stores in February. These locations do not include cash registers, and highlight yet another move from an e-merchant to set foot in the physical retail world. This launch is, of course, reminiscent of prior announcements by other Web giants and leading retailers.
JD.com is entering the physical retail world, through relying on face recognition and RFID tags. For now, only one pilot store has been implemented in Beijing. The test phase has been ongoing since October last year, with 10,000 of their employees. Throughout this period, JD.com observed a daily flow of roughly 1,000 customers, and 70% repeat purchases.
The purchasing process is described as "seamless". Customers would choose the items they want to buy and leave the store without even paying. The payment step hasn't yet been described.
Just as well, JD.com could rely on a network of cameras to assess their customers' interest in such or such products and make adjustments accordingly. The same cameras should then help organise or replenish their departments, as they see fit. In addition, the group is planning other services by way of further simplifying their customer process: autonomous cars for deliveries, self-service kiosks to deliver some pharmaceuticals, for instance. Their new network is being implemented in partnership with COLI (China Overseas Land & Investment), in charge of identifying relevant locations for their stores.
Comments – The future for POS checkout means no cash registers
Amazon is still working on their Amazon Go concept, but has already inspired many players. Self-checkout devices have indeed changed since they introduced this prototype store, and several major retailers are now placing their bet. Walmart, for instance, is testing a relatively similar concept store, through their Kepler Project, but, no launch date has been specified either.
China does seem to be outrunning their US retail counterparts. In March 2017, a mobile, autonomous store was presented by the start-up BingoBox. And JD.com is also experimenting other brick-and-mortar retail store formats: their 7FRESH grocery stores have just been opened. These locations make it possible for them to test other technologies, including face recognition or robot carts (following specific customers through the aisles). Likewise, Auchan Minute stores emerged from a partnership between Auchan and Alibaba, and started being implemented last year on the same market.