Intermarché introduces QR code payment with PayPal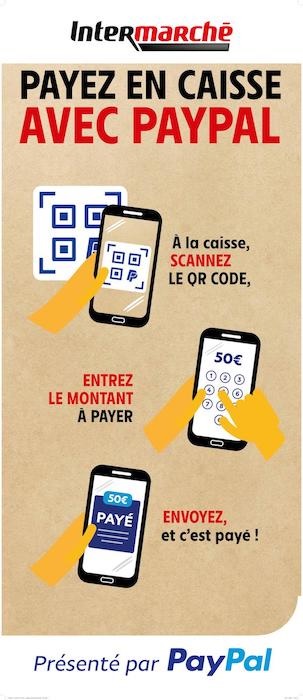 FACTS
The Mousquetaires Group has just announced that it has started a payment pilot based on the QR Code technology implemented last year by PayPal.
Two points of sale are currently concerned in Châtillon (92) and Maisons-Alfort (94).
Target: the rather urban customers, holders of a PayPal account, wishing to quickly pay a small amount.

Customer journey:

A QR code containing the merchant ID of the Intermarché point of sale is displayed on the Plexiglas protecting the employees at the checkout.

The customer scans this QR code with his PayPal mobile application (latest version).

He is directed to a merchant branded payment page, where he must enter the amount of his transaction.

He validates the transaction and presents the confirmation page at the checkout (eventually, this confirmation should be notified directly to the merchant).

Transactions are thus accelerated, making the checkout process smoother and allowing the customer to respect barrier gestures and avoid touching anything other than his or her phone.

The initial feedback from customers has been very positive.  

Intermarché has more than 1,800 points of sale in France. If successful, Intermarché and PayPal plan to extend this pilot to more stores in the future. 

Merchant commissions displayed by PayPal for payment by QR code: transaction fee of 0.60% + 0.10 €.
CHALLENGES
Adapting to the health crisis: The checkout and payment stage is now a real issue in the context of the health crisis, social distancing and limited physical contact. Intermarché and PayPal's payment test aims first and foremost to ensure the highest level of health security for customers and employees in physical stores. It was on the basis of this argument that PayPal launched its QR code payment solution last year, during pandemic. This same solution allows small merchants to quickly collect payments or individuals to receive a money transfer.
Renewing the customer experience: In addition to health security, Intermarché and PayPal are innovating here in the physical payment journey. PayPal's solution stands out for its simplicity and should not result in a transaction that takes longer than a contactless card payment. However, it requires that the customer has a PayPal account and its mobile application. Hence the use case mainly envisaged by Intermarché, which intends to address rather young and urban customers on fast checkout lanes.
A first step towards the implementation of QR code payments in France? Contrary to NFC contactless payment, QR Code payment is not very widespread in France, especially in comparison with Asian countries. In this case, its advantage is that it requires no technical infrastructure on the part of the merchant. Intermarché and PayPal are now testing the French people's appetite for this new payment method. 
MARKET PERSPECTIVE
PayPal has entered a phase of rapid evolution of its model. In 2020, the online payment giant has committed itself to the democratization of installment payment and to the trading of crypto currencies. 2021 will see the update of an application that has been strongly rethought to integrate all these dimensions around payment.
The addition of the QR code at the point of sale is part of this vast program by offering an outlet in physical stores, which the pure player has long sought.
This dynamism is succeeding, since PayPal recorded strong growth in 2020.