Distribution Channel – Internet
Payment
United States
Instagram allows purchases to be made via Direct Messages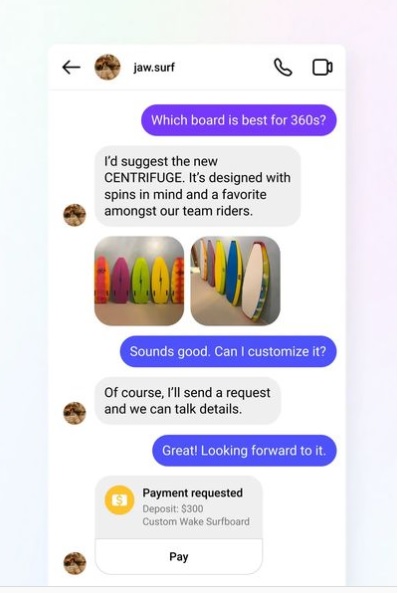 The social network Instagram is offering a new feature to its users. This opens the way to a new form of online shopping and payment, via its integrated chat allowing exchanges on its platform. The Meta subsidiary is thus demonstrating the interest of its entire group in diversifying its activities, particularly in e-commerce.
FACTS
Instagram allows its members to chat privately in Direct Messages, its instant messaging service. But beyond a simple chat room, the service will now also allow US Instagram users to make purchases.

The CEO and founder of Facebook (now Meta), Mark Zuckerberg, made the announcement on the social network. In a post, he states that users of the service will now be able to make direct purchases on the network from small businesses with a professional account.

Small businesses will be able to communicate with their customers through Direct Messages and also send them a message inviting them to pay via Meta Pay to obtain their products. A few clicks are all it takes to complete the transaction.

The same Direct Messages space created between the small retailer and his customer will then allow the latter to follow the shipment of his product until it is received.
CHALLENGES
An increasingly integrated experience: The service takes care of the entire payment process in order to offer an integrated end-to-end experience. It represents an evolution of a service that has long been developed by the Meta group, notably through its Facebook Shop.

A new use for Meta Pay: The launch of this new feature allows the Meta group to offer its Meta Pay payment service a new use space and a new legitimacy.
MARKET PERSPECTIVE
Meta has been working for a long time on its reorganisation and diversification towards e-commerce. More than a social network, Facebook is making the transition and is even showing its ambitions in a recent name change. Having changed its name to Meta, the group is seeking to establish itself as a new digital space for exchanges in the broadest sense, including commercial exchanges.

The group has never hidden its ambitions to impose itself on the Social Commerce market, via various initiatives, notably on Instagram in the past.