In-Store Credit Facilities: Walmart Teams up with Affirm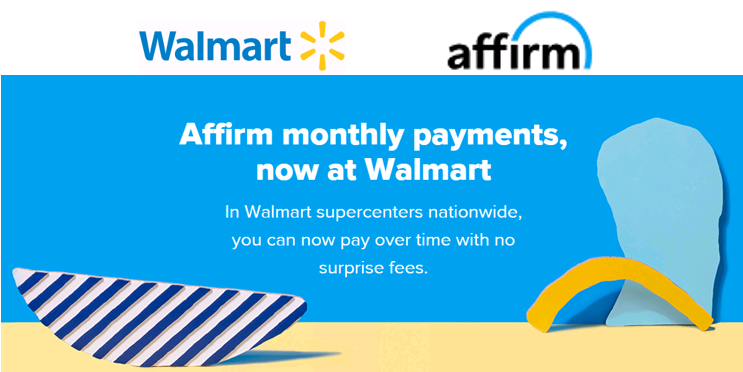 FACTS
In partnership with the financial technology company Affirm, Walmart lets customers pay for their in-store and online purchases on credit.
This lending offer will be among in-store payment options across the retailer's supercentres nationwide (except in Iowa, West Virginia and Porto Rico), and well as online.
Customer process:

Customers may check whether or not they are eligible through affirm.com/shop/walmart
They specify their name, date of birth, e-mail, mobile phone number and the last four digits of their Social Security Number
A decision is made in real time, and does not impact the customer's credit score
If approved, shoppers choose the repayment term (3, 6 or 12 months) and the exact amount to be repaid each month is displayed
For in-store purchases, a unique barcode is sent and will be scanned by a store associate to complete the transaction.

Eligible cart amount: from $150 to $2,000 (groceries are not eligible).
CHALLENGES
Featuring online and in-store payment facilities. Walmart intends to talk consumers into getting through with purchases they could otherwise have delayed.
Payment facilities became must have features for many retailers and stand out as a key differentiation vector in Walmart's race to outrun Amazon, for instance.
As they provide US retail giants with an alternative to traditional credit cards, Affirm gains ground as a major player on an increasingly competitive sector. This start-up was founded in 2012 and scales up through reaching out for no less than 4,000 Walmart locations in the US, and targeting roughly 140 million potential customers.
As a matter of fact similar offers have already been featured by H&M with Klarna, Rebecca Minkoff with Afterpay, and more recently by JPMorgan Chase.
MARKET PERSPECTIVE
Walmart and Affirm started working on this new service over 18 months ago. For starters, it will be implemented as a payment option on Walmart.com over the coming weeks.
The San Francisco-based FinTech already features this option for purchases from Hayneedle and Allswell (Walmart Inc.-owned brands).
To date, Affirm teamed up with over 2,000 merchants including Expedia, Orbitz, Wayfair and even Cole Haan. Yet, Walmart should soon become their largest partner.