In India, e-rupee soon accepted in department stores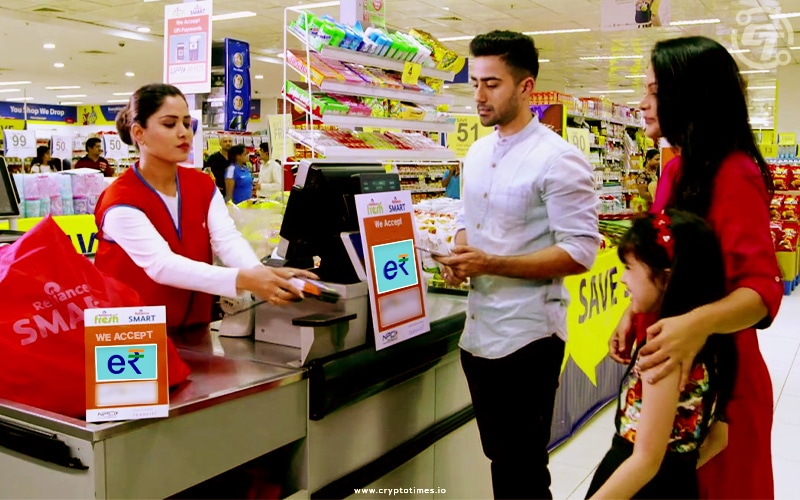 Reliance Retail, one of India's largest retail chains, will allow its customers to pay in e-rupee, the central bank digital currency first introduced by the Reserve Bank of India (RBI) in December last year for retail markets in select Indian cities in pilot mode... The retailer has become the largest Indian company to adopt e-rupee at its outlets.
FACTS
Reliance Retail has become the first corporate retailer to adopt digital currency acceptance in India, continuing its efforts to create a convenient and seamless payment experience for customers.

The company has already pioneered QR-based dynamic in-store UPI payments.

Acceptance of eRupee has been facilitated by Kotak and ICICI banks on a platform provided by Innoviti Technologies, which has a 76% market share of corporate retail digital payment processing.

The purchase journey is intended to be instant and simplified:

When checking out, customers will have to scan a QR, via the "Digital Rupee" application, developed by the partner banks.

They will instantly receive a notification to confirm that their payment has been made.

If the pilot phase is successful, the e-rupee will be rolled out to all 17,000 shops in 7,000 cities across India.
CHALLENGES
Central bank digital currency is being touted as a solution for the future: Reliance Retail director V Subramaniam said eRupee offers the advantage of a digital transaction without the cost, as other digital payments have an interchange cost and credit cards have a merchant discount rate. At the same time, eRupee transactions do not have the disadvantage of handling cash and they can be reconciled with invoices using the same solutions used for digital payments.

A sovereignty issue: In February 2022, a pilot project was announced by the Indian Finance Minister. While the political authorities are traditionally sceptical about crypto-currencies and decentralised finance, the latter wants to prevent to cure, by creating an MNBC controlled by its central bank. The initiative was first rolled out in four major cities, including Mumbai and New Delhi, before being expanded to nine other cities. A senior official told Coindesk newspaper that the project has been extended to 15 more cities
MARKET PERSPECTIVE
The European Central Bank, which is also interested in the subject of CBDMs, has given its vision of its future central bank digital currency. The institution mentions a consumer application capable of "offering contactless payments or QR codes" and a payment application. But the road to the digital euro will not be without its pitfalls. The commercial banks that are championing the EPI digital identity wallet project take a dim view of institutional competition.

Finnish fintech Membrane Finance launched EUROe, the first EU-regulated stablecoin and payment network, on 2 February. EUROe functions as a full reserve stablecoin, turning a fiat euro into a 1:1 indexed digital currency and a guarantee from Membrane Finance that these funds will not be spent.