In brief: Circle prepares its Euro Coin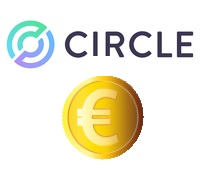 FinTech Circle has announced its ambition to introduce a stablecoin backed by the Euro in the near future. Simply called Euro Coin, this new digital currency will be issued from the United States, bypassing the European authorities.
The Euro Coin will be available on the Ethereum blockchain on 30 June, according to Circle. Other blockchains will follow.
These new tokens will allow companies and institutional clients to :
Transfer euro cash more easily to the blockchain,
access the crypto-asset market,
make and accept payments in Euros on a global scale.
The Euro Coin will be fully backed by Euro-denominated reserves held by financial institutions like Silvergate Bank.
Circle was already the co-issuer, with Coinbase, of the 2nd largest Dollar stablecoin by capitalisation, the USDC. It is now also taking the lead on the European currency, deploying its EUROC in the US initially, pending harmonised regulation of digital assets in Europe.