Hello Bank! will open to professionals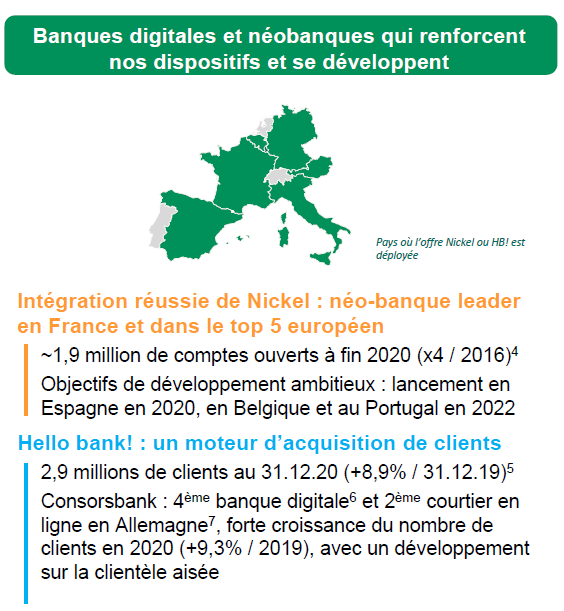 FACTS
Until now, the mobile bank of BNP Paribas Group, Hello Bank! does not propose any offer dedicated to professionals. The situation should change soon, according to the head of online banking in France.
Hello Bank! is about to launch a service offer for self-employed people. This is what Caroline Lehericey said in an interview.
The BNP Paribas Group is counting on INSEE analyses which show that the number of business start-ups increased between 2019 and 2020 and that individuals account for three quarters of these start-ups.
The self-employed will not be the only ones to benefit soon from a new affinity offer developed by the mobile bank. Hello Bank! is also planning to present an offer for its customers' children in the coming months, with an account, a card and a savings account, which should be operational in the first half of 2021.
The bank also reported on its results for the year 2020, which were contrasted: while consumer credit balance fell by 13% due to the lockdown that blocked consumption, savings and the stock market recorded strong results :

+ 45% increase in subscriptions to Sustainable Development and Solidarity Booklets (LDDS)
+ 45% more stock exchange customers
+ 100% for the number of orders placed
+ 43% for Hello! life insurance customers' outstanding.
In terms of customer base, Hello Bank gained 90,000 additional customers, an increase of more than 15% over the year (and 600,000 customers at the end of December). Adding Belgium and Germany, the bank has 2.9 million customers (+9% in one year).
CHALLENGES
Diversify its offer, without losing sight of the needs of its target: Hello Bank! has been counting since its beginnings on the adaptability of its offer to the different profiles of its customers and to the requests they express. Until now, it is rather about Millennials. With the self-employed, the bank does not want to stray from its core target, since it notes that this generation is often made up of "slashers", who combine parallel activities carried out on a freelance basis.
Continuing the search for profitability: Aiming for a new target is also synonymous with potential new revenues. The underlying aim of this positioning is to build on a business model that is sustainable over the long term; an issue that an offer dedicated to professionals could partly address. This shift has been taken since the beginning of 2020, with the launch of its Hello Prime offer at €5 / month. Since then, customer studies show a strong satisfaction regarding the quality of service and the value for money of Hello Bank's offers.
impose oneself within the group: Hello Bank! is not the only figurehead of the digital strategy of the BNP Paribas group. The latter is also at the head of Nickel, which is successfully pursuing its European conquest. However, the two establishments have quite different targets and very distinct proposals.
MARKET PERSPECTIVE
While Hello Bank! was expecting a boost in 2020, in terms of customer acquisition and international expansion, the health crisis has forced it to postpone several of its projects. However, it has held up well. Profitability is now expected in 2 to 3 years, when the neo-bank will have reached 1 million customers.
Previously, it has already revised its international ambitions downwards, to avoid exploding investment costs and to preserve its business model. When it was launched in 2013, it set up operations simultaneously in Germany, Belgium, France and Italy, and then rapidly expanded into Austria and the Czech Republic. However, it has postponed its planned projects in Slovenia, Hungary, Romania and Bulgaria.