Google launches new way to pay for families on Google Play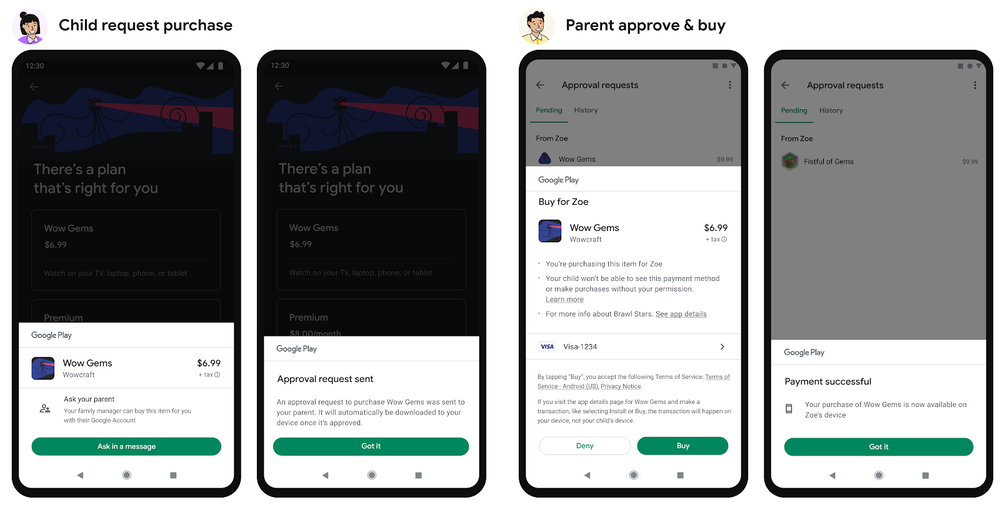 Google now offers families an additional payment option that allows them to easily manage their children's purchases.
FACTS
Google has added a new and easier way for families to securely purchase paid apps and in-app purchases.

A family payment method can already be set up in Google Play, allowing parents to share a payment method with different family members.

Google recently introduced another tool for families: purchase requests.

Now, when the family payment method is not active, children can still send a purchase request directly to the family manager.

Parents will then be able to evaluate the request and the relevant information on the app or the integrated purchase directly on his or her device and decide whether or not to make the purchase.

When they decide to purchase, they use their registered payment methods, including Google Play gift cards.

Parents receive real-time notification of purchase requests

It is also possible to queue up a request for approval to be decided later.
CHALLENGES
Facilitating intra-family payments: especially for parents who are reluctant to share their banking information and payment methods. The alternative tries to reassure them with a kind of delegation: members of their group do not have direct access to payment instruments.

Creating a common payment ecosystem: this new feature shows a new possibility to pay in a smooth and transparent way. This idea extends to the family ecosystem, but could be extended to a wider target, companies, groups of people, ....
MARKET PERSPECTIVE
The concept of sharing in a paperless way is evolving in several ecosystems. Apple recently introduced an NFC digital key sharing feature (car key, house key in its wallet). This feature could also give Apple ideas to share cards stored in Apple Pay. The sharing of dematerialised objects is becoming an increasingly popular trend, and BMW has also enabled the sharing of digital keys.

As for Google, the company recently expanded its partnership with Renault. The French car manufacturer and the Mountain View company have joined forces to develop a software-defined vehicle platform to optimise the user experience with data (the Software Defined Vehicle: SDV). This partnership between Google and Renault based on SDV logic opens the door to tailor-made car insurance thanks to the analysis of vehicle data in real time.