Google introduces innovations in fraud detection for UPI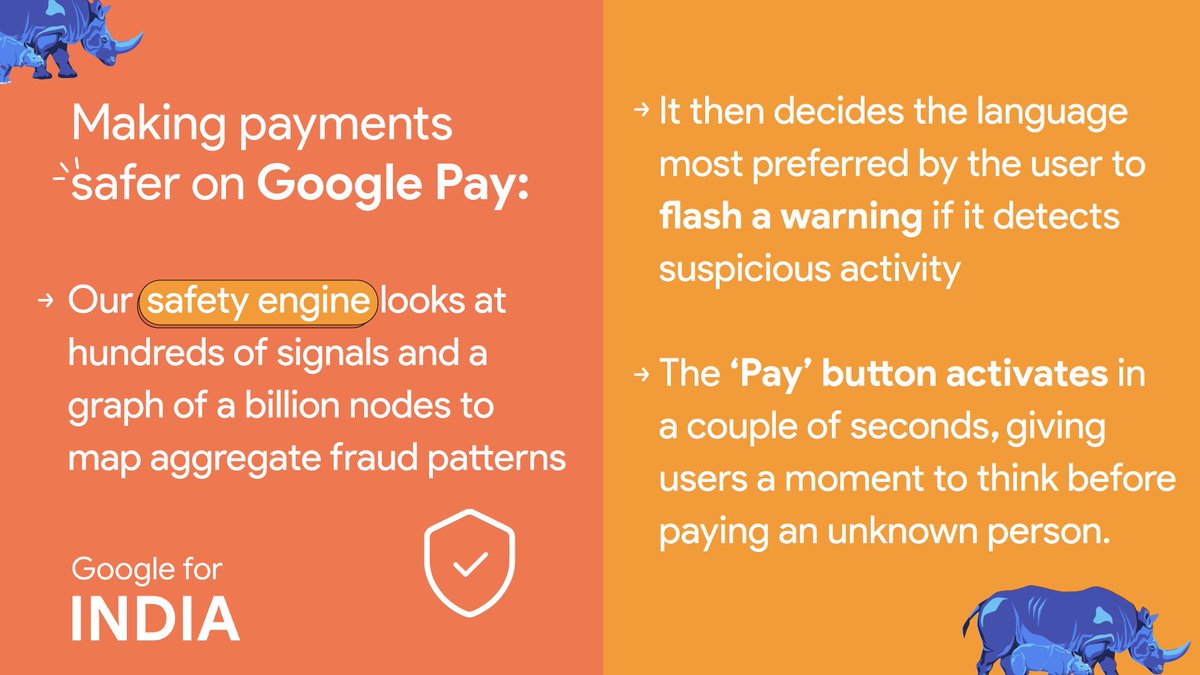 At its annual Google for India event, the US company announced several new initiatives to keep users safe online. As more and more people in India embrace digital tools and ecosystems, it is imperative to raise awareness about online safety.
FACTS
Google has introduced fraud detection on Google Pay, which will notify users of possible fraudulent behaviour.

Google Pay will also show transaction history and ask questions about spending. For example, users can ask Google how much money they have spent on a category of items.

It has also integrated DigiLocker into the Files app on Android as part of its collaboration with the National e-Governance Division (NeGD) :

This will allow users to directly access their important documents such as driving licenses, Aadhaar cards (biometric identity cards), etc.

Google's custom AI model will identify important documents and organise them even in a simple view.

Users will also be able to organise their family's documents and protect the document folder with a password.

Use will be offline and all documents will be secure.
CHALLENGES
Securing payment: Digital payments are on the rise in the country, and this applies particularly to financial fraud. According to a survey conducted by a private company LocalCircles, 42% of Indians have been victims of financial fraud in the last 3 years and 74% of them have not been able to recover the money.

Improving fraud detection: Google mentioned that it uses advanced deep learning methods in its security engine that analyse the aggregate transaction patterns of millions of users, linking them to a graph of a billion nodes.

Simplifying transaction checking: the company has introduced a useful new feature in Google Pay that allows users to access transaction history more easily. Users can now use their voice to ask simple questions such as "Show me how much I spent on coffee last week". This will allow users to monitor their spending on a regular basis.
MARKET PERSPECTIVE
In November 2022, Google introduced UPI Autopay as a payment option on Play Store to enable its India-based users to purchase subscriptions using UPI.

The search engine is collaborating with Meity and Digital India to create a pan-India awareness campaign for multilingual users. In addition, the campaign would get support from HDFC Bank, Axis Bank, Kotak Mahindra Bank, Axis Bank, Airtel, SBI and ICICI. Google's multilingual campaign against digital fraud would encourage people to adopt basic precautions to avoid the most common computer and phishing attacks.