FinTech: Brex Raises $100M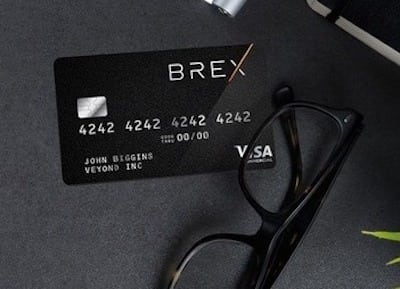 FACTS
The Californian FinTech Brex, behind a corporate credit card for SMEs and start-ups, just raised $100 million, lifting their valuation to $2.6 billion.
This investment round was led by Kleiner Perkins with Y Combinator Continuity, Ribbit Capital, DST Global, Geenoaks Capital and IVP.
Goal: Streamline corporate spend management and accesses to credit offers
Outstanding point: a new risk assessment method
How it works

Brex looks into start-ups' previous funding series, as well as their founders' and investors' reputation to decide whether they can apply for corporate credit cards.
They must have a minimum of $100,000 in the bank
Their authorised credit line evolves based on their cash-flow

Among card-linked offers:

Up to $5,000 in credit with Amazon Web Services
Discounts on Salesforce software
Discounts at WeWork for office space

Brex will be using this new investment to more aggressively roll out their platform building more features and rewards offerings. This funding series should also enable them to aim for additional markets. They also just landed on a new sector in partnership with the California Life Sciences Association (CLSA).
CHALLENGES
Expanding their client portfolio. Brex doesn't intend to address start-ups only, they aim for more mature banking customers, as well. They will then craft offers based for each market vertical.
Addressing a major friction point. Also, start-ups can have trouble applying for credit cards to handle their expenses and their employees' expenses. Brex would bypass issues generally encountered with conventional banking systems, essentially scoring based on businesses' balance sheet or their founder's history.
Applying BtoC principles in the BtoB sector. In order to add rewards, this start-up includes advantages already in place for individual credit cardholders. Their merchant customers may for instance enjoy 60-day interest-free delays, to make up for times when they don't make profit (e.g.: inventory counts).
A congested market. Brex is one of the FinTechs featuring credit card offers for start-ups. Their recent funding round should also help them withstand competition from new entrants and long-standing banking players.
MARKET PERSPECTIVE
Nine months ago, Brex raised $125 million: they became a unicorn just 16 months after launch, with $1.1 billion valuation.
Several banking groups in the US, including JPMorgan Chase, American Express and Wells Fargo feature corporate credit cards for SMEs and start-ups. Brex also faces competition from companies such as Square: Square Card (a debit card for SMEs) was launched several months ago.