FinTec: Qard Boosting E-Merchants' Cash Flow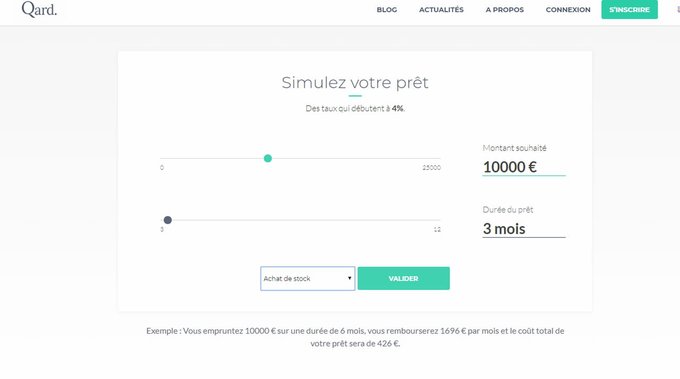 FACTS
The French start-up Qard, which features lending offers for small and medium-size merchants, would be getting a €600,000 funding series ready.
Goals: Boost their business and hire more people.
Following a long incubation period at Zurich-based Fintech Incubator, F10, and at the CNAM's incubator, Qard was launched in 2019. They feature loans worth a few tens of thousands of euros for e-merchants, over 3 to 12 months.
Targets: European e-commerce players, merchants selling on marketplaces and/or on websites in their own name.
How it works

Qard relies on macroeconomic data, including the Sirene database, accounting data (results, balance sheets, etc.) as well as on business-related data collected through the software and sites these merchants use. Their creditworthiness can be assessed for a one-year period.
This FinTech bets on a Machine Learning-powered scoring system to analyse this data.
Once the application approved and KYC process conducted, the loan is credited to the merchant's account within 24 hours.

Business Model: Qard charges application fees (under €50) and APR based on the term and amount of the loan.
Qard to grant €10 million in loans by end-2020; they also aim at attracting 800 to 1,100 clients.
CHALLENGES
Building more partnerships. Qard claims 350 registrations through their platform. Not all of these customers have been granted loans as their financing feature is funded through their own capital. This start-up is an approved financial intermediary. Loans may vary from €40,000 to €50,000 per month. Qart now bets on partnerships, with Travelex, for instance, to increase their lending capacity.
A growing market. More Tech giants are now aiming at entering the market for e-merchants-focused credit: Amazon, for instance, launched a lending offer for e-commerce start-ups. Yet another US Behemoth, PayPal, also started focusing on this industry and introduced their own credit offer.
MARKET PERSPECTIVE
A few weeks ago, Qard announced a Strategic partnership with the French mobile bank Ditto Bank, which now features a full-digital, short-term lending SME option.
Besides, the French start-up Mansa joined forces with Ditto Bank on launching an offer, too. Mansa intends to make it easier for freelancers and liberal professions to apply for credit lines. They rely on a new scoring model.