FCA Bank Builds a Pre-Scoring Platform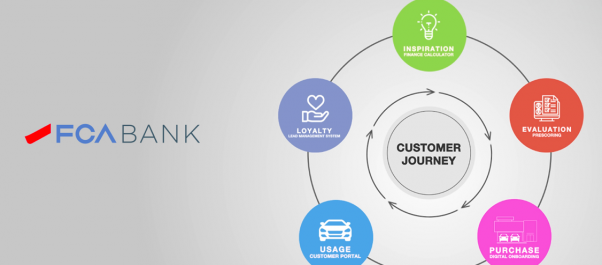 FACTS
In line with a digitalisation process kicked-started in April this year, FCA Bank presents a pre-scoring platform enabling their customers (BtoC and BtoB) to choose car configurations on car manufacturers' websites, have access to car financing simulations and be sent agreements-in-principle.
With this tool, they are informed beforehand of their borrowing capacity; they may opt for and activate the financing solution most relevant to their situation before purchasing a car. A financial calculator is included for assessing monthly instalments in real time as well as repayment terms.
Customers may sign their lending agreement digitally via a FCA Bank's "Digital Onboarding" process. Also, they can track the subscription procedure via their customer portal.
A test phase is underway; this platform may be made available by January 2020.
CHALLENGES
Focus on user experience. FCA Bank intends to build a full-digital user experience and help their customers handle car financing services on a daily basis. In this case, they are informed of how much their car will cost before visiting a car dealership.
Expansion endeavour. With this service, FCA Bank doesn't only intend to boost their presence in Italy, but also reach out for other European markets.
MARKET PERSPECTIVE
FCA Bank, banking arm of FCA Group and the car maker Jaguar Land Rover further works on mobility-oriented solutions most suited to car drivers' needs. They recently gave thought to short-term car rental options with Leasys via Amazon.
Besides, this service is reminiscent of CGI Finance's offer via the app Zéroclic: a tool rolled out at car dealerships for featuring customised financing options.