Facebook Introduces a Unified Payment System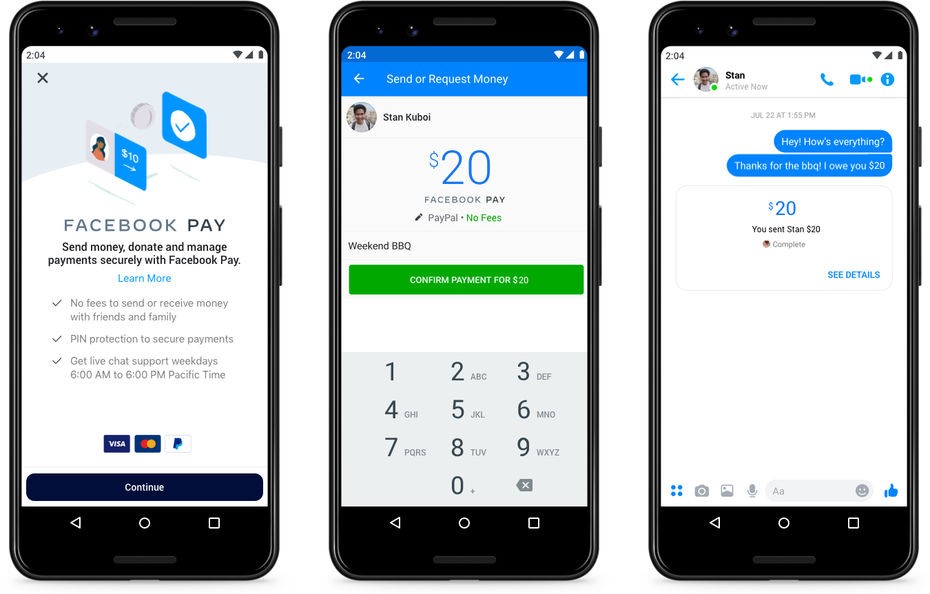 FACTS
Facebook unveils Facebook Pay, a unified payment system to apply to all their apps: Messenger, WhatsApp, Instagram and Facebook.
Goal: ley customers make secure payments from their different platforms and unify their services under a single brand.
The wallet called Facebook Pay should be compatible with most credit and debit cards, as well as with PayPal.
Payments will be processed via their partners Stripe and PayPal.
How it works

Facebook Pay isn't enabled by default.
Internet users may configure Facebook Pay on just one apps, or choose to configure it with all Facebook apps.
They specify their preferred payment method and can use it whenever the feature is available to avoid keying in their banking information for each transaction.
Facebook also provides them with access to their payment history and lets them get in touch with after-sales services via live chat.

Among features, this wallet allows customers to:

Raise money,
Buy games or event tickets;
Make P2P payments;
Pay online on some pages and on Marketplace.

At first, Facebook Pay will only be available in the US. And it will be rolled out to Android and iOS users of Facebook and Messenger. Instagram and WhatsApp are to be added in the months to come.
CHALLENGES
Aiming for payments. The social network enters the ecommerce era: an endeavour which accounts for other market-relevant launches. They make their ambitions clear and confirm that Facebook Pay is part of their ongoing effort to help their users transact via their apps more easily. The group also says Facebook Pay bears no relation to their future Calibra e-wallet (seemingly expected to launch in 2020).
Tough competition. Facebook isn't the only group aiming for payments, other US "Big Four" already entered the game. Just days ago, Google announced they intended to launch a checking account to be made available from Googe Pay. In order to reach critical mass as soon as possible and withstand competition from rival groups, Facebook bets on their existing billions of app and service users.
Data protection. Facebook has been facing multiple scandals to do with data privacy, or lack thereof, and data leaks over the past years. In order to store and encrypt banking data, Facebook Pay will be resorting to monitoring systems for identifying fraud attempts and warning the users if necessary. Their customers will be able to add a security code or use biometric authentication to further secure their payments.
MARKET PERSPECTIVE
Facebook already set foot in the payments industry via Messenger. Their users can already make P2P payments on some markets. Facebook Pay might be a game changer as customers would be able to send money from one Facebook app to users of another app.
Facebook's wallet may then challenge existing apps featuring similar services, e.g.: PayPal's P2P transfer app, Venmo, and Square's SquareCash.