Decathlon Rolls Out "Try Before You Buy" Service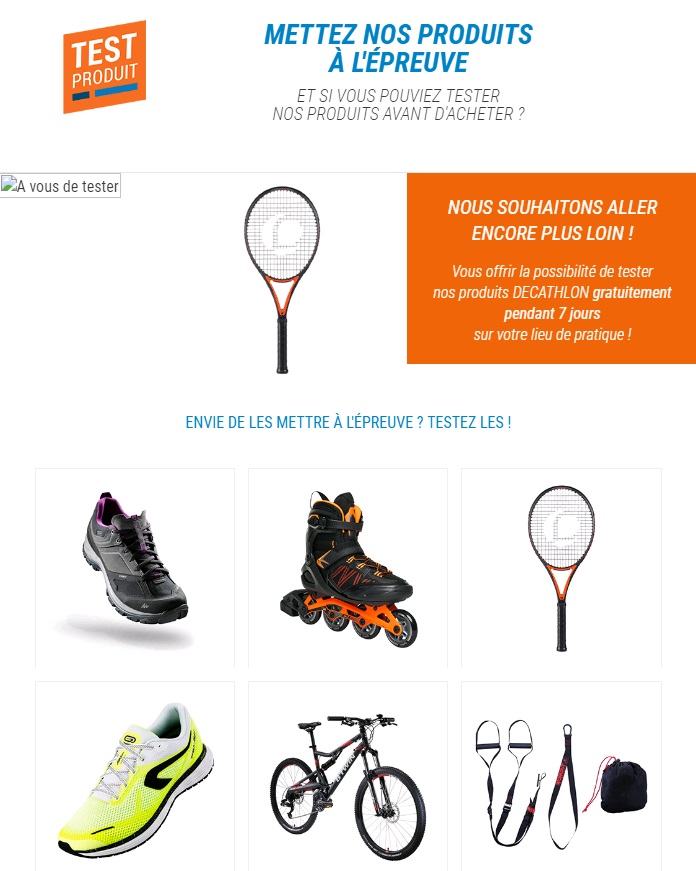 After a conclusive test phase, the sporting goods retailer started to implement a new service in their stores. This option called "Essayer et payer après" (literally "Try before you buy"), allows their customers to try products at home for free: they may simply return these items if they do not suit them.
 After a successful pilot test in a dozen stores earlier this year, Decathlon rolls out a free "Try before you buy" service jointly crafted with the POS device manufacturer Verifone. Decathlon allows their customers to take home products from their brand (shoes, racquets, bikes, etc.) so they can test them where they usually practise sports. They have seven days to decide whether or not they want to keep them.
They may return articles for free (if they think they are suitable for them) or keep them and pay for them after the seven-day delay over. Decathlon runs a pre-authorisation process on the customer's card and stores the associated payment data for a limited amount of time.
Decathlon will also take the process further, through making this service available directly in their store's departments using a mobile payment terminal. And Instalments could be proposed later.
Comments – Try before you buy: a new consumption pattern
Decathlon are sure their customers are interested in these types of services: sales are confirmed 70% of the time. They only report a 20% return rate. In this case, the items can be sold over again for a lesser amount, or be passed over to their department for second-hand products. The payment step is described as safe and simple (it is relatively similar to the process applied by car rental companies or hotel booking sites). Customers' interest in relying on these services may keep increasing since flexibility is put to the fore when it comes to making purchases.
The "Try before you buy" system isn't actually new: several e-commerce players (Topshop, Zalando, Amazon Prime Wardrobe, Etam, etc.) already added this feature. This led to changes in their customers' behaviour: nearly 25% claim they already purchased several items while intending to return some of the articles (Source: LSA). This solution is also gaining momentum thanks, for instance, to Amazon Prime and Sarenza as customers can return articles for free.
In line with this evolution, e-merchants have to come up with specific systems for managing orders and returns while also ensuring quality after-sales services. This is quite a challenge for some players, whose return rates have to be monitored for the sake of profitability. For Decathlon, 10% of the orders are causing problems.