Mobility
Credit
Singapore
Citi and Grab launch a dedicated credit API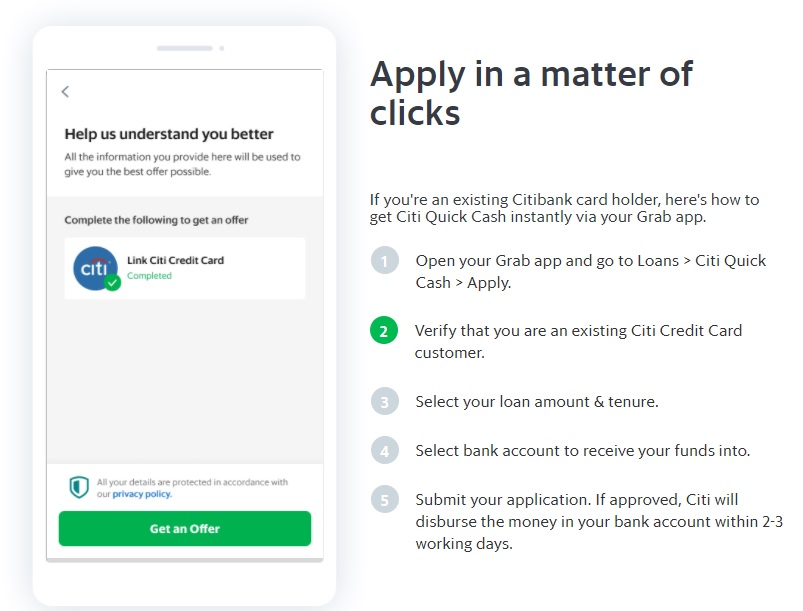 FACTS
Citi Bank has partnered with Asian VTC giant Grab to launch a new joint credit offering.
Its particularity is to be accessible to users of Grab's mobile application via an API, allowing instant subscription from the VTC application.
Objective of the partnership: to integrate the Citi Quick Cash consumer credit offer, designed by Citi, with Grab's mobile application.
Target: users of the Grab application, customers of a credit card issued by Citi.
Thanks to the fact that they are already Citi customers, they will be able to access a personal loan offer from the bank simply and instantly.
Loan conditions:

Amount starting at $1,000 Singapore dollars
Repayment term over 12 to 60 months 
APR: between 7.5 and 10.5%.
If the loan application is managed from the application, the data is immediately transmitted by Grab to Citi, which takes care of the entire processing of the applications, from reviewing them to releasing the funds. Instantaneous loan processing is possible because Citi knows its credit card holders.
CHALLENGES
Diversifying its financial offerings: Grab is historically a VTC giant, but its activities have been widely diversified, from home delivery, to booking tickets for shows, through financial services and credit. The integration of Citi's personal loan offer is a new step it had never taken before, since only a credit card, also issued by Citi, was available to its clients until now.  
Enriching its Super-App: In its efforts to diversify, and although it has a banking license, Grab has relied on a number of partners to enrich its application with API technologies. 
Citi, for its part, is gaining a new distribution channel for its offerings, with a major player, since Grab had no less than 166 million customers at the beginning of 2020. It is also a way of anticipating the gradual disaffection of customers for credit cards, by explicitly offering them the option of converting their outstanding card balance into a personal loan at a much lower rate. 
MARKET PERSPECTIVE
Grab has established itself as a leading player in the financial services market. The group is continuing its efforts with a head start for its super-App. 
Citi's financing offer appears complementary to other financing offers already proposed by Grab, such as its loan offer dedicated to SMEs.