BPCE: Digitalising Mortgages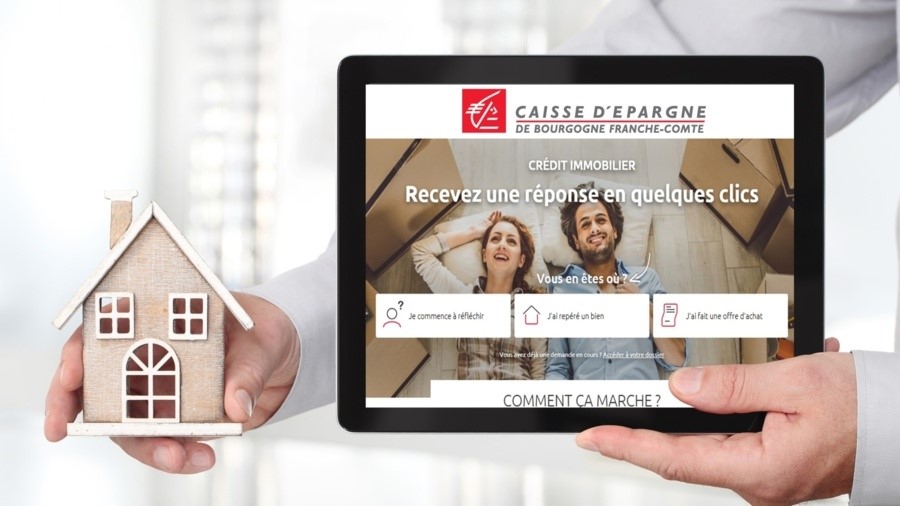 FACTS
Caisse d'Épargne Bourgogne Franche-Comté unveils a new format for subscribing mortgages.
With this full-digital offer, every step of the subscription process is handled online, from being provided simulations to signing the contract.
Channels: Mobile, tablet, PC.
Tools:

Simulating commercial offer in just 5 minutes
Secure portal for customers to store and send the required documents and validate their application,
Service for tracking file progress in real time,
Online subscription process for borrowers' insurance,
Digital signing.

BPCE makes room for human assistance upon request from their customers. They may contact an advisor throughout the application procedure via phone call or in a banking branch.
This digital service has been crafted by direction teams from Banque de Proximité et Assurances, their digital and data direction, and BPCE teams focusing on Information Systems. It should later on be expanded across the BPCE group.
KEY FIGURES

Caisse d'Épargne Bourgogne Franche-Comté:

900,000 customers
€1B credit volume each year
Already 40 mortgage applications processed, or €5M

With this digital offer, BPCE hopes to

Save time on decisioning processes: with twice shorter delays
Handle 10% of their credit production online by 2020
CHALLENGE
Simplifying and speeding up subscription processes. According to a survey by Opinion Way, 65% of the borrowers deem mortgage application procedures are tedious. BPCE intends to simplify these processes through making them faster and easier to understand.
Testing a process on a larger scale. Caisse d'Épargne Bourgogne Franche-Comté is testing an offer likely to be rolled out across all Caisses d'Épargne et Banques Populaires by end-2020.
Supporting BPCE activities. The group says that mortgages are among the main development axis considering their impact on securing customer loyalty.
Upholding a global strategy. This move is in line with BPCE's overall Digital Inside strategy, highlighting technological innovation as they seek to meet customer expectations in each regional banking unit.
MARKET PERSPECTIVE
Mortgages are among the most formal banking offers: renewing the associated model requires more caution than with any other product or service. Yet, the ongoing digital transformation ended up being applied to this extremely formal product, too.
Large scale banking groups heavily contributed to this evolution. Commerzbank introduced a mobile-based service for mortgage subscription in 2017. Crédit Agricole has been using online tools for managing customers' mortgage applications since 2018, and started relying on cross-channel procedures as early as in 2017. UBank, for their part, included AI technologies in their educational strategy to fuel their full-digital model.