Belgian Banks Joining Forces on Building Shared ATM Network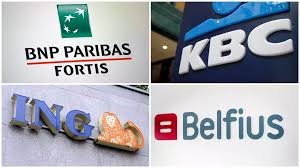 FACTS
Belfius, BNP Paribas Fortis, ING and KBC Bank are joining forces to create a shared ATM network: a response to shared cash management issues faced by banks.
Goal: meet changes in consumers' behaviour when it comes to handling cash.
These Belgian leaders are planning to implement a nationwide ATM network under a neutral flag, via a dedicated Joint-Venture.
The new network should rely on a "balanced" distribution of the ATMs. It should optimise access to cash in defined areas: customers must have access to at least one ATM within maximum 5 km. this distance may be shorter in big cities.
This joint initiative may also be joined by other banking institutions operating ATM networks.
Their first ATMs should see the day mid-2021. There should no longer be ATMs installed in ING, KBC, Belfius and BNP Fortis branches by end-2023.
CHALLENGES
Logical evolution. According to a survey by Febelfin, 90% of the Belgian consumers favour e-payments over cash. The number of e-payments increased by more than 70% since 2012, while ATM cash withdrawals kept losing ground. In this context, these Belgian banks decided to join hands and rethink their ATM networks.
High costs. Cash also comes at a high cost for banks. According to a study by Sia Partners, the annual cost of cash cycles in Belgium would reach €300 million. Heavy investments will be required for this project to be put in place.
MARKET PERSPECTIVE
A month ago, BNP Paribas Fortis announced they would be removing ATMs from their branches starting on May 31, 2020. The other institutions hadn't yet released statements regarding likewise plans.
This initiative is also reminiscent of a project by five other Belgian banks. Two years ago, AXA, Argenta, Crelan, Bpost banque and Vdk bank officially launched Jofico, to jointly manage their ATM networks.
These launches will contribute to renewing the Belgian ATM estate.
More globally, European banks are facing similar issues: making their ATM estate profitable while maintaining access to cash. In France, some players started outsourcing ATM management with help from service providers (BPCE and Brink's, for instance). In order to address the issue of cash access, some towns are also directly implementing self-service devices (Points Cash): in these cases, the ATMs, from Brink's, aren't affiliated to specific banks.