Innovation
FinTech
France
Bankin' Raises €20M, Stresses Shift to Financial Coaching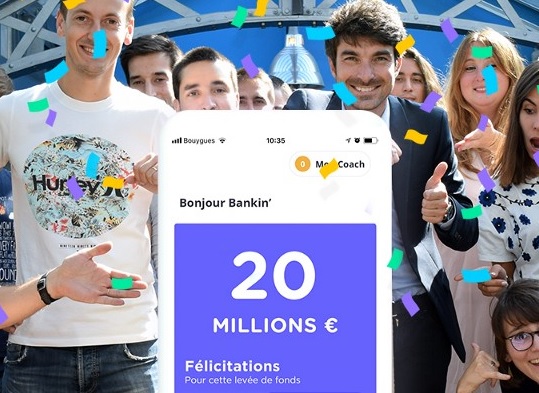 FACTS
The Paris-based FinTech Bankin' just raised €20 million.
No official statement has been released so far, but it seems this funding round may follow an investment by Casino in the FinTech's . In January, since the retail group had been planning to acquire a minority share in this FinTech.
The point for this funding round:

Contribute to expanding their set of offers, aim for a hybrid financial coaching model binding algorithms and human advice (via a chatbot).
Boost their BtoB business based on Bridge brand.
Hire 20 employees.
Prospect to increase their customer base.

On this occasion, 2 new features have also been added to their app:

"Mes opportunités": based on customisation algorithms implemented by Bankin', it helps the users spot the best financial opportunities depending on their situation. It also suggests changes including mortgage renegotiation or building precautionary savings.
"Ma Progression": making changes to the in-app PFM service for the sake of adding fun to the user experience.

A payment initiation service would also be added later this year.
KEY FIGURES

2011: Bankin' was founded
€28.4M raised since launch
2.8M users
Goal: 10M users in 3 years

BRIDGE

350 banks connected in 4 countries
Or, 95% of the French banking network, 85% in Spain and in the UK, 65% in Germany
References: Sage, Milleis Banque, Cegid
CHALLENGES
Secure their market position in France and Europe. With this funding round, Bankin' stands out as a leading player on the market for financial coaching. They already achieved this status in France, even claiming over 2 million users. Their new goal is to secure this position in Europe, and become an entry point into the Open Banking industry for financial players, as the Swedish company Tink did in Northern Europe.
Build a global financial tool. Savings, loans, insurance premiums and retail banking services are as many aspects Bankin' commits to encompass when providing advice to their users. They would help them renegotiate their mortgage, subscribe new insurance policies, or other savings products, depending on market conditions, on their personal situation and evolution.
Stand out as an advisor rather than an aggregation service. 80% of their users only connect one account to the management app. Starting from this observation, Bankin' will make changes to their strategy using this new investment. Beyond account aggregation, their service is meant to include financial coaching, and become essential to boost their app's day-to-day use levels.
MARKET PERSPECTIVE
Bankin' still features free services for individual customers, their business model is based on acting as a business finder as well as on the licence they hold for their BtoB solution. They also aim to increase Bridge's sales figures threefold, as its share in their business model remains low.
Later on, in addition to financial services, Bankin' aims for diversification through assisting their users with managing telecom and energy costs, or even car insurance expenses.
Bankin', however, specifies that their strategy will be relying on day-to-day services: they will not be focusing on wealth management.
Video: https://youtu.be/7-a-HYT7A5Y