Technology
Payment
United States
Apple's iPhone for Your Car Key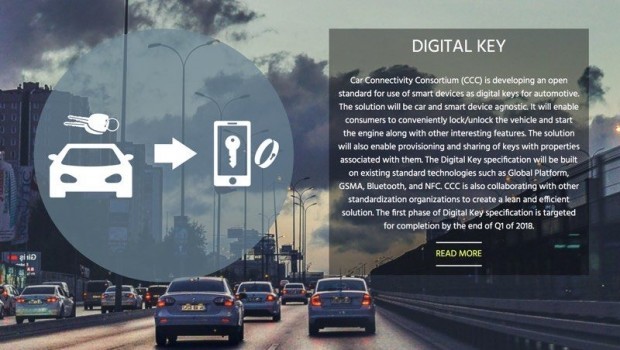 More than two years after they filed a patent where the iPhone was described as a means to replace car keys, Apple takes part in the first interoperable standard intended to let drivers download a digital version of their car key to their mobile phone. Tesla used to be the only car manufacturer to fully have replaced car keys for their recent Model 3 vehicle.
The Car Connectivity Consortium (CCC) –which counts Apple as one of its major members– unveils a new set of specifications. This project called "Digital Key Release 1.0 specification" will enable car drivers to lock/unlock car doors, start their engine, and share access to their car using their mobile phone.
This protocol will mostly rely on NFC connectivity. This technology has always been blocked by Apple on their iPhone devices and limited to digital payments only. Sensitive information will be stored in a secure element in-car, relying on existing Trusted Service Manager (TSM) infrastructure. The technical and security-related aspects, making it possible to link a car with a given owners' smartphone, will be handled by member carmakers.
A second version of this protocol should be released in Q1 2019. So far, Audi would be ready to propose such formats of digital keys. Other carmakers, including Volkswagen and BMW, will be waiting for this version 2.0.
Comments – Digital car keys becoming popular
Apple would be planning to expand their NFC capabilities and announcements could be made when they will release their next OS update. iPhone users may then be able to lock/unlock car doors, or even rely on their phone in transport networks without even having to unlock their device. The NFC chip will then no longer be limited to Apple Pay-based payments, and Apple could be providing full access to this module to some third-party developers.
The US firm isn't the only company to be giving serious thought to these topics: Samsung, LG and several car industry giants are working on ways to shift from traditional car keys to smartphone-embedded, digital ones. The CCC protocol would then be supported by most car manufacturers and compatible with all brands of smartphones or connected objects. It should also be adjusted to meet many players' needs and specifics: corporate fleet management, shared vehicles, and car rental companies, for instance. It would, in fact, be easier to lend or rent a car via sharing a mobile-based digital key; some test phases have already been run (see OuiCar example).