Innovation
Players' Strategy
China
Ant Forest: Alibaba's Outstanding Environmental Plan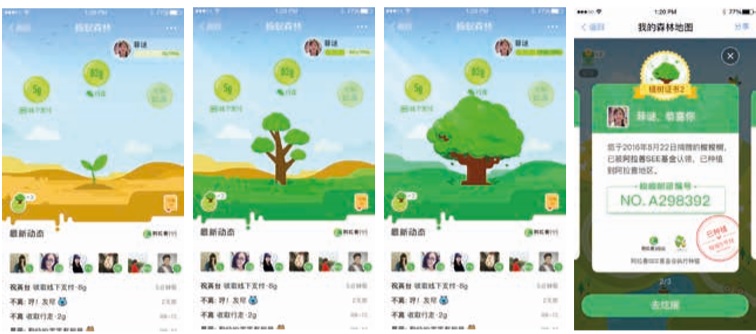 Alibaba's financial arm, Ant Financial, is mostly famous for their relentless endeavour to design more financial services… Like their parent company, their ambitions are limitless. Yet, they are also behind a puzzling environmentally friendly project. In 2016, they highlighted their ecological approach as they unveiled Ant Forest: a program which became inescapable.
The Ant Forest project entered its pilot phase in August 2016. This full-fledged program allows Ant Financial to let their customers commit to an environmentally friendly approach, based on personal data analytics.
From the users' point of view, Ant Forest is a mobile app providing customised data as to their carbon footprint. It relies on analysing their consumption behaviour. This calculation is paired with advice to help them limit their impact. It then purports to reward observed accomplishments, there again, based on analysing their expenses: buying metro tickets rather than filling their gas tank, for instance. The "green energy" points they earn will define how many trees Ant Forest can eventually replant.
In April 2017, the Ant Forest app had 220 million users, who contributed to a reduction of 5,000 tons per day. This project must still gain momentum and has also been developed to include SMEs.
Comments – The "green" touch for holding financial services higher
Ant Forest is in line with a trend where Web giants and financial institutions benefit from open data and their analysis. Ant Financial highlights an environmentally friendly means to add value to their data, and their users' data, while supporting a major cause. This program aims for several objectives: strengthening their corporate image, stress their commitment internationally, assert their customers' loyalty through a rewards program, build a community for their brand… as many assets for Alibaba and their financial entity. Ant Forest proved so successful that its President now gives speeches to the United Nations Environment Programme, for instance. It then reaches much farther away than its national frontiers. A lot is at stake with this program especially now that Alibaba's buyout of MoneyGram has been rejected by US authorities, for political reasons…
"ANT believes that tomorrow's financial system should help value and manage our common environmental assets." This is how the group presents Ant Forest: a mature program, which is also engaging for consumers.
Also read: https://docs.wixstatic.com/ugd/3d4f2c_b35460f1908f4404b9446617eb25aca6.pdf