Amazon Applying Hand Vein Recognition to Payments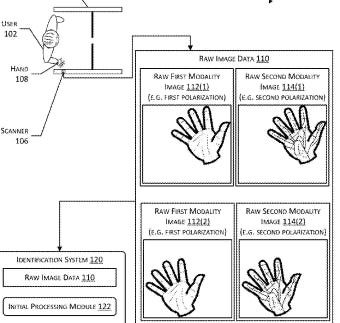 FACTS
The e-commerce giant Amazon recently filed a patent where they describe a biometric payment system relying on hand vein recognition.
The U.S. Patent and Trademark Office published their application. This patent was supported by nine Amazon Technologies executives in the US and in Israel.
Goal: replace QR code scans or card use with digital hand patterns.
How it works. This solution allows for customers' identification using a scan of the palm of their hand. The infrared camera captures two images: one exploiting external features (wrinkles and creases), the other exploiting deeper structures (such as veins, bones, soft tissue and other subepidermal structures).
This system is described as highly secure. It could be rolled out to identify customers as they walk in and out of Amazon Go cashierless locations, for instance, or in Whole Foods supermarkets. More globally, it would be meant to improve access control in warehouses and stores, as well.
The patent specifies that this device could help track what items customers pick from the shelves and trigger inventory replenishments.
CHALLENGES
Optimised experience. These scanners could be located near stores' entries and exits, which might mean that the payment process could rely on separate devices enabling customers to pay for their purchases in a more frictionless way. The point would be to dematerialise the purchasing process and design a seamless experience.
Amazon thought of other applications for their system, including implementations in transportation facilities. Amazon aims beyond their own stores with this technology, as they did with other technologies in the past (voice-based assistant, Cloud computing, Just walk out, etc.).
Personal data. If installed in their stores, these devices would, however, raise questions as to the issue of personal data processing: a major challenge for Amazon alongside issues regarding their voice-based assistant Alexa or Ring security cameras.
MARKET PERSPECTIVE
In September 2019, The New York Post announced that Amazon was testing a payment system based on hand scans with their employees and would have been considering rolling it out in some Whole Foods locations (Whole Foods was bought out by Amazon in 2017).
Hand vein recognition-based payment technologies are available in some countries, including in the UK. The British FinTech Fingopay already features a solution for identifying customers using maps of their finger vein patterns.