AirAsia Launches a Mobile Payment App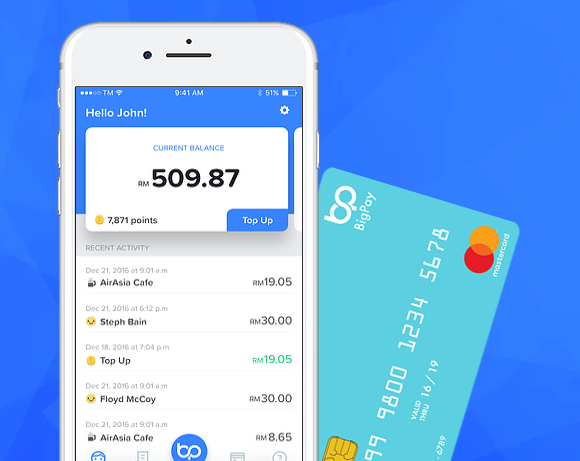 Following a conclusive test phase in Malaysia, the low-cost South-East Asian airline officially launches their wallet. AirAsia keeps focusing on diversifying their activities and openly stresses ambitions when it comes to including financial services, even credit facilities would be considered.
AirAsia's new mobile solution, BigPay, lets its users store up to 10 payment cards, allowing them to track everyday transactions in real time. It will come with a companion Mastercard prepaid cash card. This airline first intends this service to help avoid cash-based in-flight payments. Later on, the point would also be to allow cardholders to pay using their service on the ground too, through Mastercard's network. And travellers would be targeted via reduced exchange fees, too. For now, charges only apply to cash withdrawals.
Beyond payments and account management, BigPay provides its users with a means to send money to their contacts for free. Customers may then synchronise their contact list with the app or scan the recipient's QR code.
AirAsia is strategically aiming to include financial services (and 100 million potential customers). In addition to money transfers, the airline also plans to propose dedicated credit offer, as well as insurance services.
Comments – The wallet war rages on
Banking as a Service platforms have allowed various players to stand out on the market for financial services, even enabling them to propose their own offers. This has been highlighted by the Finnish group Ferratum, for instance, when they helped Thomas Cook Money with launching Sumo, their own m-banking offer for holidaymakers. And, just a few days ago, Allianz announced a partnership with Visa on proposing a mobile payment app.
AirAsia relies on attractive terms of use, especially when it comes to exchange fees, to draw customers' attention. This airline holds data regarding more than 63 million passengers and intends to add value to this asset. Yet, this company is landing on a very competitive market. In South-East Asia, many players have been trying to increase uptake of their payment solutions. The carpooling specialist Grab, for instance, opened their solution to third-party merchants, however, it was initially meant to pay for taxi rides. Later on, Go-Jek (motorcycle taxi) bought out three FinTech companies to aim for the payment sector, too. Among unsolved questions, the way customers will react to the increasing number of payment solutions remains to be seen. In any case, insurance companies, the travel industry, transports and mobility in general are as many sectors now focusing on mobile payments as well.
Also read: https://www.bigpayme.com/