After the restaurant voucher, the telework voucher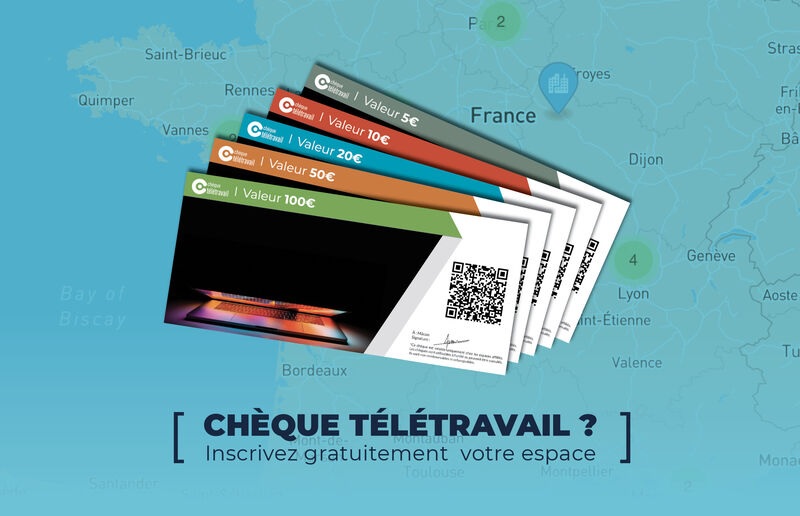 Manager of coworking spaces, of a communication company and creator of innovative solutions, Thierry Valdor is an entrepreneur at the origin of a brand new service: the telework voucher. As its name indicates, it should make life easier for teleworkers by giving them access to coworking, which is becoming more democratic, and in this sense represents, more than a means of payment, a new salary advantage and a response to the new needs of companies.
FACTS
Thierry Valdor has just launched telework vouchers. The main objective of this solution is to encourage companies to pay for coworking sessions for their employees.

The telework vouchers are, in form, prepaid coupons distributed by companies to their teleworking employees. The latter can use their vouchers to book and pay for coworking spaces within a network of affiliates, by scanning the QR code affixed to each voucher.

The telework vouchers are free of charge for the beneficiary employees, but a commission will be charged to the issuing companies.

The telework vouchers are currently being deployed; they can already be used by employees to access 16 coworking spaces throughout France.
CHALLENGES
A solution to a legal obligation: Article 7 of the 2005 national interprofessional agreement presented by the Ministry of Employment, Social Cohesion and Housing legally obliges the employer to cover the costs of teleworking for its employees. It is on this article that the Telework Voucher is based to legitimise its existence. All the more so, in a context of democratisation of telework.

A paradigm shift: According to an INSEE publication on the economy and society in the digital age, based on figures from the Ministry of Labour's Directorate for Research, Studies and Statistics (DARES), there were only 3% of regular teleworkers (teleworking at least once a week) in 2017. At that time, 4% teleworked occasionally. The pandemic has nevertheless profoundly transformed habits. The DARES counted 25% of employees teleworking in France in 2020, and estimated that the situation was relatively similar one year later, in the spring of 2021.

A tool adapted over time: Many companies have finally put in place a telework agreement to renew their post-crisis organisation and make telework sustainable.
MARKET PERSPECTIVE
Thierry Valdor is now adapting the meal voucher concept to telework and offering a service that is in tune with the times. The border between these two worlds has never been very thick; Sodexo was already interested in coworking in 2017.

Since then, teleworking has been democratised with the health crisis and the services adapted to meet the new needs linked to this work organisation are multiplying. When Luko presented a second home insurance including services dedicated to teleworkers, Nationwide transformed its branches into coworking spaces.