Aave Unveils a Crypto Asset-Based Bank Transfer Option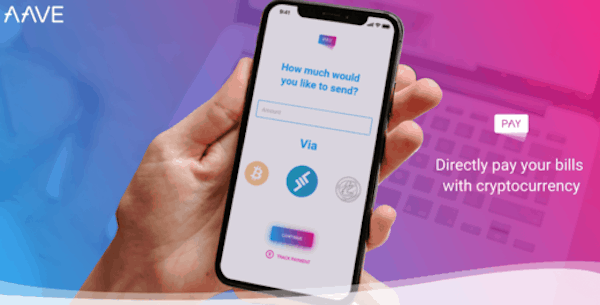 FACTS
The British FinTech –subsidiary of ETHLend– launches a mobile app enabling its users to pay everyday bills in virtual currencies.
Goal: free crypto-assets' potential and increase their popularity
The app called Aave Pay may be used by individual people (P2P money transfer) or by corporate customers (payrolls, income taxes, corporate or commercial expenses, etc.).
How it works. To carry out a transfer, the customer must

Opens the app and pick the cryptocurrency he wants to use
Specify the amount in fiat currency (EUR, USD, CHF, GPD, AUD, INR)
Provide the recipient's IBAN

Aave Pay calculates an attractive exchange rate and specifies the overall transaction  cost
Aave Pay automatically processes the payment, sending the amount to the beneficiary's bank account

Featured crypto-assets:
CHALLENGES
Ensuring cryptocurrencies mainstream adoption. Aave takes the concept one step further for crypto-asset holders. They claim they want to break "the paradigm that cryptocurrencies are only asset people invest in and cannot be used as traditional currencies".
Aiming for more customers. The British Fintech bets on cryptocurrencies, which are still coveted by young connected customers. They target a new audience, interested in these assets but discouraged by their costs as well as by some platforms' intricacy.
MARKET PERSPECTIVE
A month ago, Aave was granted two licences from the Estonian Financial Intelligence Unit. They may then expand their range of services in Europe, including with Aave Pay.
Just like this start-up, several other companies are focusing on crypto-assets derived opportunities. Facebook would consider letting their users rely on a cryptocurrency to send money or pay for some services.