Payment
Players' Strategy
United States
Walmart Builds on Online and Offline Channels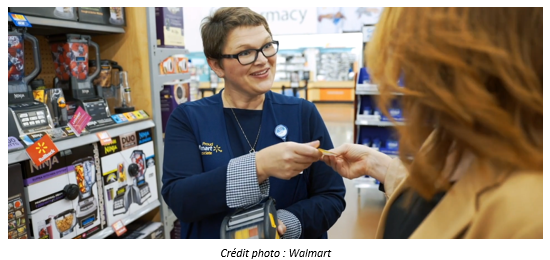 FACTS
The US retail giant introduces a new service allowing their customers visiting their stores to order and pay for articles even if the product is not available in that location at that moment.
If customers fail to find given products or if the items are out of stock, sales assistants will help them order and pay for them online. This service relies on an app which connects Walmart stores to their website. Customers may then choose to have the item shipped to their home address or pick it up from a nearby store.

Completing the order: once the order placed, the customer gets a receipt or an e-mail including a barcode, enabling him to pay at any register in the store.
Payment step: cash, check, credit/debit card or via the Walmart Pay mobile app.
Service Availability:

Across 4,700 Walmart stores
All year round
For all products sold and shipped by Walmart.
CHALLENGES
Walmart has been paying further attention to the ways they might stand up against competition from Amazon and the e-commerce sector in general.
They now invest in a "phygital" customer process as they aim to win additional market shares. Their main goal is to instantly convert sales and avoid that their customers should buy the missing items from a rival online store.
As the year closes in, most retailers are coming up with new services likely to improve customer satisfaction and attract new consumers. Walmart's strategy appears to be a success: their online sales increased by 43% this year, leading them to become the 3rd largest American e-merchant, after Amazon and eBay, but before Apple.
MARKET PERSPECTIVE
Less than a month ago, this US retail group announced several services meant to speed up customers' in-store check in and check out processes: a mobile payment solution was also introduced. This new service builds a bridge between their brick-and-mortar locations and their website.
Just over a year ago, a relatively similar service was presented by Target. Unlike Walmart, Target also added a card reader to streamline payment processes from their stores' departments.
Walmart in November:

US comp sales increased 3.4% in Q3 2018
+$1.7 billion in total revenue
+43% online sales growth