Payment
Players' Strategy
Europe
SlimPay Adds Card-Based Recurring Payments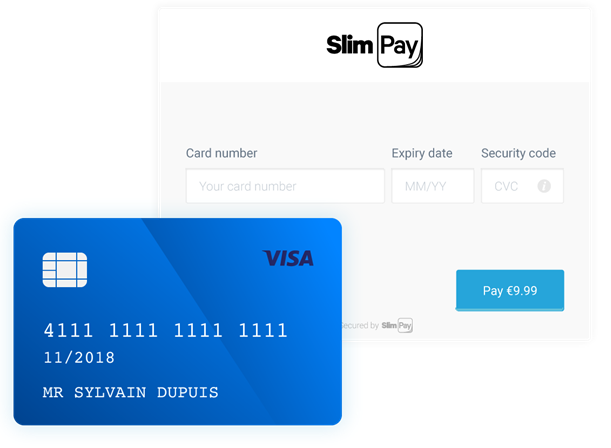 SlimPay, French FinTech which addresses companies having to deal with recurring payment management processes, expands their range of offers beyond automatic SEPA Direct Debits. They are presenting a service enabling merchants to accept card-based recurring payments.
The Parisian start-up unveils a feature enabling their merchants' customers to pay for their online subscriptions using their payment card. This new option comes in addition to SDDs, so they can adjust to ongoing changes in subscription-based services/offers.
Merchants interested in letting their customers pay by card can add Checkout by SlimPay which tokenises their card number. The amounts are collected by the FinTech on behalf of the merchant's acquiring bank. Merchants may then send an invoice each time the customer uses the service.
Merchants may also combine both these payment methods and adapt their payment mix to different possible scenarii. For SlimPay, the point is the same: increase conversion rates and reduce churn rates.
Comments – SlimPay becomes a one-stop counter for recurring payments
Direct debit is the preferred payment method for subscriptions and recurring payments in France. In fact, card-based payments bring along some issues to do with security and operational management. Yet, more French people are using them to pay for their subscriptions. According to a study by YouGov, 28% of the French customers see no reason why not to pay by card for recurring purchases; SlimPay stresses the opportunities brought about by this option. With this new possibility, the FinTech will be able to meet long-time customers' expectations (SFR, EDF, etc.) –since they rely on SDDs; and Web players' expectations (BeIN Sports, Deezer, etc.) –as they prefer card payments.
SlimPay already proposed a service for preparing card-based payment orders. Their further focus on execution aspects meets an increasing demand on the part of their customers. They rely on combining card payments and SDDs to face their main rival, GoCardless. This challenger mostly addresses the online market for SDDs and just opened an office in Paris.