Innovation
Players' Strategy
France
REX: Nickel Chrome Celebrates 1 Year Anniversary and Success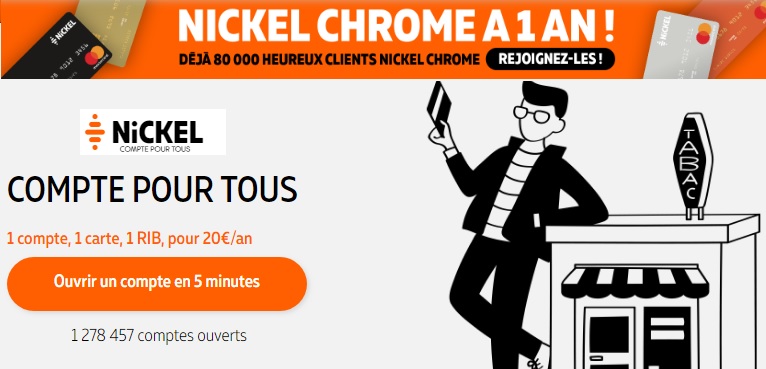 FACTS
The Financière des Paiements Électroniques (FPE) is celebrating the 1 year anniversary of their premium offer Nickel Chrome.
Nickel Chrome:

Costs €30/year (+ €20 for a Nickel account, or €50/year)
Includes a Premium card with insurance and assistance
Lets its users make card payments for free
Charges €1 per ATM withdrawal

Nickel Chrome claims 80,000 customers:

62% are men, 38% are women.
Average ages: 30 to 50 (for half of these customers).
French departments most interested in the Nickel Chrome card: Seine-Saint-Denis, Paris and Bouches-du-Rhône.
Abroad, Nickel Chrome customers mostly use their service in Spain, in Belgium, and in Germany.
Preferred card visuals: black (39%), gold (38%), silver (20 %) and orange (3%).
KEY FIGURES

1.3M accounts opened
300 employees
Goal y 2020: 2M customers
CHALLENGES
A low-cost Premium offer. Nickel commits to taking part in increasing banking services' popularity, especially services to do with Premium cards. Nickel Chrome promises to include more services and typical packages, at a lower cost and based on a more transparent model.
Further build their business model. The Nickel Chrome offer consolidates this challenger bank's business model and meets needs expressed by part of their customer base. Indeed, Nickel doesn't only address unbanked segments, as initially expected.
Improve their ability to become customers' main bank through featuring a wide range of services.
MARKET PERSPECTIVE
Compte-Nickel evolved a great deal since launch, starting from a "bank-free account" back in 2014, the FPE agreed to be its buyout by BNP Paribas in April 2017 and, in so doing, changed their tagline to "Compte pour tous" (literally, bank account for everyone).
This strategic acquisition caused their offer to evolve to a higher-end business model, without leading fragile customers to disregard their service.
And, once again, recent figures released by Nickel stress their ability to meet customers' and prospective customers' expectations: their success story goes on.