Revolut teases a new "Ultra" card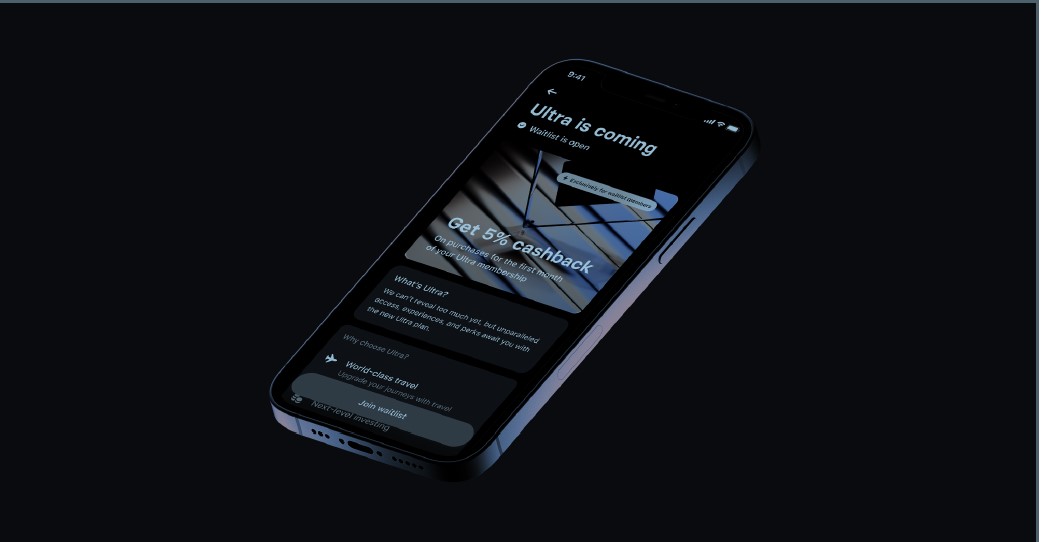 The neo-bank, which had largely focused its strategy on expanding its range of services in recent years, is now refocusing on the fundamentals of its banking offer with the launch of a new "top of the range" offer called Ultra.
FACTS
The new card has been announced for spring 2023 in the UK.

Members wishing to join will have to register on a waiting list which has not yet been opened.

The new offer will contain a range of benefits, including those focused on travel and investment, but also a cashback offer.

Ultra was announced on Twitter by the group without providing further information.

Revolut's paid-for offers are:

Plus (GBP 2.99 / month);

Premium (GBP 6.99 / month);

Metal (GBP 12.99/month).

It is expected that "Ultra" will cost much more, probably around GBP 18 or 20.
CHALLENGES
Creating scarcity to create desire: Revolut has promised a cashback offer of around 5% in the first month, for the first people on its waiting list.

Revolut's goal is to boost its card usage figures, but also the average balances deposited in customers' accounts, who have largely shied away from investing in the stock market or crypto-currencies since the market collapsed. While the period looks tense for the neobank, whose financial accounts are still awaiting publication of an audit in progress and which would condition the obtaining of a British license that would open the doors to new markets such as India, an important growth relay.
MARKET PERSPECTIVE
RevCoin has long been talked about since May 2022 without any details on its development. The neo-bank is postponing its launch, which is already a few weeks late. The company's spokesperson cites "difficult market conditions with contagion from the FTX collapse".

In Spain, Revolut has launched a new personal loan service, and many users in the Spanish market can already access loans for transactions between €1,000 and €30,000 from the Revolut app. Although the interest rate will depend on each user profile, we know that it will be between 3.49% and 14.49% per annum fixed.

In Ireland, the neo-bank launched its first split payment product in June. A new service will allow its users to spread their payments over three instalments, within a global credit limit of EUR 499.