Neo-Insurance Player Luko Teams Up with Lydia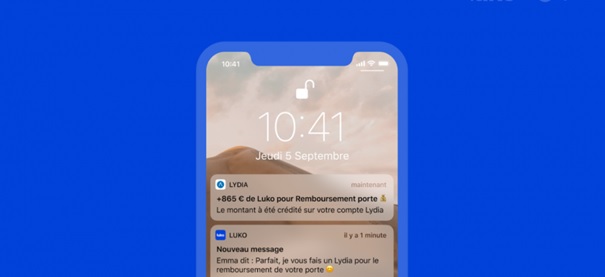 FACTS
Goal: Instantly indemnify customers in case of damage claims.
Luko was launched in 2018 and features an AI-powered solution. They now address more than 10,000 insured households and hit yet another milestone. They started featuring a subscription process that only requires 2 minutes, video-based claims and repair work within 2 days. Their customers may now be indemnified instantly.
How it works

Insured parties start a conversation using a chat module for contacting Luko's team of experts.
An advisor starts a video call for assessing damages.
If their claims are easy to process, advisors may directly assess indemnification amounts.
They may instruct that a technician should be sent for repair work, or that customers be sent indemnification.
If insured parties choose to be sent payment via Lydia, the amount is credited within seconds to their Lydia account based on their phone number.
CHALLENGES
Customer loyalty. Through their agreement with Lydia, Luko wants to materialise a promise: indemnifying customers within two hours. Until then, several days were required before the insured party could receive the amount. They now instantly deal with claims. Speeding up time to process damage claims is also a lever for securing customer loyalty.
For Lydia, this partnership is a means to further reach out for new sectors and look into the insurance industry.
Also, the InsurTech's solution has been integrated with a Lydia's new hub for financial services. This hub called "le marché" encompasses full-digital banking services, non-binding insurance policies and instant lending offers. More than 2.5 million users may subscribe an insurance contract from Luko directly via their mobile app.
MARKET PERSPECTIVE
Luko recently raised €2 million and keeps working on a transparent and fair insurance offer. In June, they added satellites to their coverage assessment system.
Two months ago, they were granted B corp certification, a status granted to companies meeting social and environmental requirements, as well as governance and transparency requisites as regards to the general public.
Luko is considering using AI to prevent damages and would be crafting home protection services based on these technologies, too.
Also, this isn't the first time Lydia looks into an applying immediacy to a project in the insurance sector. They teamed up with the InsurTech "made in" Société Générale. The point was to enable Moonshot-internet's customers to instantly be indemnified in case of damage claims.