Mobile Payment: Amazon Launches Amazon Smile Code for In-Store Payments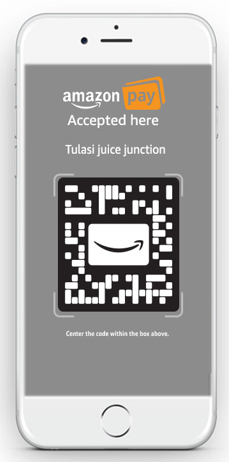 The QR code-based mobile payment market keeps expanding in India as yet another player shows up. The American e-commerce giant Amazon looks into in-store m-payment developments and bets on India, too: another battle field for Google and Amazon.
A new mobile payment service was quietly launched at Amazon Home, in Delhi's Defence Colony area: a location where the e-commerce specialist displays home-related collections. Their SmileCodes service introduced in January this year was initially meant to redeem discount coupons from Amazon. A test phase is underway and this solution –now called Amazon Smile Code– includes a payment feature.
The user may visit the Amazon app, tap "Scan", and simply snap a picture of a product's QR code. He then has access to information regarding the selected item, customer reviews and ratings prior to finalising his purchase. If he decides to buy, he just has to key in the amount and tap "Pay Now". An e-mail or text notification is automatically sent to the customer and to the merchant for payment confirmation.
Amazon also includes shipping services. The user can take his purchase home directly or have it delivered. Amazon intends to reach out for local convenience stores with this new option meant to streamline customer processes.
Comments – More launches in India
The US e-commerce leader again stresses their interest in aiming for Indian digital payment ecosystems. Just last month, they bought out the aggregation service Tapzo to boost Amazon Pay in this region. This new test phase reflects a similar goal: to increase their wallet's adoption levels.
Amazon has even larger plans and is about to buy stakes in Future Retail in response to Walmart's buying out Flipkart. They also have to face increasing competition by Alibaba, whose interest in Paytm grows. Their launch of a QR code-based payment service makes even more sense as Paytm has been featuring such an option for over three years.
A study by the India Brand Equity Foundation showed that online sales in India are expected to increase by 31% in 2018 (to reach $32.70 billion). Amazon could then improve their visibility in stores. For now, this service is available in Amazon stores but it could be implemented by other merchants, too.