Credit
Innovation
United Kingdom
Klarna Slice it Payment Solution Gaining Traction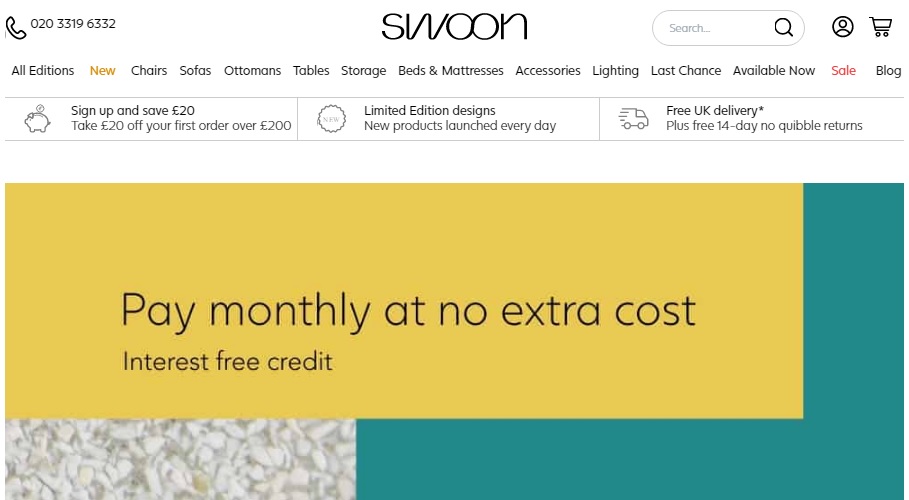 The UK online furniture brand Swoon partners with Klarna to add "Slice it" to their payment options. For more flexibility, their customers can then spread their payments over several months, at no extra cost.
Swoon was founded in 2012, and soon became a reference as an online furniture brand. They just announced a partnership with Klarna, allowing their customers to use "Slice it" to pay for their purchases.
These payments can be split into 6 to 12, interest-free, monthly instalments, depending on the overall amount of their order (eligible amounts may range from £500 to £1,000+). Prior to the payment step, the buyer fills out a form, specifying the following information: phone number, e-mail, invoicing address and date of birth. Klarna's instant decisioning process applies: if approved, the order is validated.
Customers start to pay back once they receive their furniture. In case of payment default, an 18.9% fee applies. This solution has been designed for passionate homeowners, providing them with a more flexible, faster and easier purchasing process.
Comments – Klarna, stronger with partners
The Swedish "Unicorn" Klarna announced improving results, and keeps making progress while still upholding their partnerships-based strategy. They also announced an agreement with one of the largest online beauty retailers in Europe, Beauty Bay, enabling their customers to rely on "Pay Later" at checkout. These moves are in line with the FinTech's intent to provide end users with simple and flexible purchasing processes. Klarna is helping e-merchants boost their sales, as well, secure their customers' loyalty and improve satisfaction levels.
This partnership again shows how popular Swedish start-ups have become. They are witnessing strong growth in Europe and credit offers have been contributing to this success (see, Fellow Finance for instance).