Innovation
Blockchain
France
Kard: Another Challenger Bank for Young Customers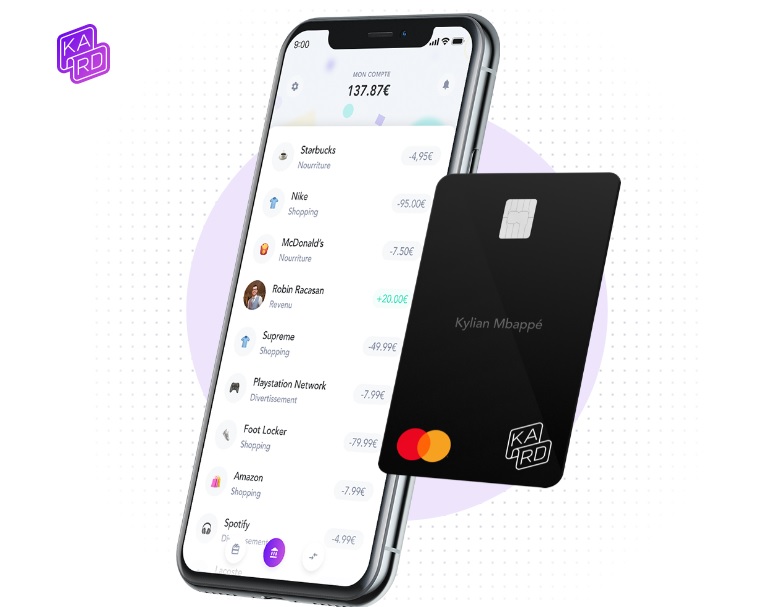 FACTS
A waitlist has been made available for teenagers interested in opening an alternative bank account with Kard. This FinTech is presented as a financial start-up for the next generation (ages 12 to 25).
Offer:

An account to be managed in-app,
A Mastercard Black card for free, also to be managed in-app.
Instant payment services, including transaction tracking notifications and budget management.

Customer process: Young customers are invited to sign up online. All requests by under 18 applicants must be validated by their parents via text message. Their banking identifier (RIB) is sent once the account created and validated.
Kard already relies on a sponsoring system for the sake of customer acquisition. Its users will be able to recruit other users, earning them and the friend they sponsor €1 each.
Besides these banking features, Kard will be adding tools for sharing information among members, aka "Karders".
Their customer service is expected to roll out at the same point and provide answers to their users within minutes.
KEY FIGURES

€3M raised
2,000 positive feedback from testers
Goal: 5 years to become profitable
18 employees
CHALLENGES
Relying on younger generations' codes to attract customers. This mobile offer will be including references to the French Football team, be tied with social media and feature customisable payment cards. Kard bets on targeted marketing to attract young users.
They stand out through a specific marketing approach, more than via introducing innovative services. Yet, their offer should be expanded later on.
Promoting a community. Kard will be building a community for prospecting through their internal social media and fun sponsoring system.
Assisting future adults. Kard can be viewed as an entry-level offer to target young customers, secure their loyalty and walk them to another service when they become adults. Over time, this second offer should enable them to make some profit.
MARKET PERSPECTIVE
Young customers and teenagers keep inspiring alternative banking service. Earlier this year, other FinTechs started focusing on this market. Xaalys, for instance, bets on an educational approach, and Pixpay is expected to land in France this fall.
And the British FinTech Revolut will soon be launching Revolut Youth, even if this offer hasn't yet been described.