Credit
Innovation
United Kingdom
Jaja Introduces a Mobile-First Digital Credit Card in the UK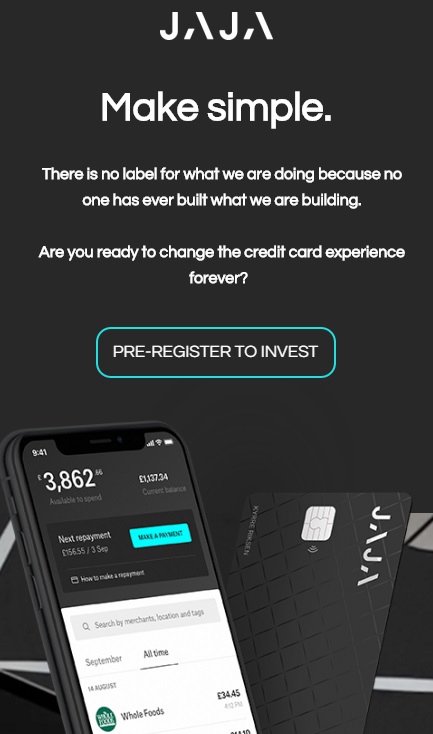 The British start-up Jaja is about to launch their first full-mobile credit card, after they managed to secure £7 million in funding. Account settings and repayment plans will be handled through the app. The idea is to streamline credit operations and their management.
The digital credit card called "Jaja" is fully monitored in-app and paired with the customer's bank accounts to schedule automatic credit transfer operations, for instance, or pre-set criteria for smart account top-up. It is intended to make it easier for them to deal with banking operations and help them manage their finances; to this end, their transactions are processed in real time. Since they have a partnership in place with Visa, the Jaja credit card becomes a universal payment method.
This card is proposed for free and comes with several features: sharing of credit with family and friends, transparent account management and repayment monitoring, and even a card blocking option. The app's interface relies on a chat service allowing borrowers to can scan ID documents and be sent an agreement-in-principle in a matter of minutes.
Also, Jaja plans to start a funding campaign via the crowdfunding platform Seedrs, so they could support the rollout for the 2,000 investor credit cards, as well as a 24/7 customer service.
Comments – Innovative offers for the credit card, too
Unlike the prepaid and debit card markets which have had to face much competition, the credit card sector barely even changed over the years. Yet, as the digital trend keeps gaining momentum, more FinTechs are seeing the day. And, credit card issuers also try to ensure easier, more independent management processes. Jaja Finance, a British FinTech from Norwegian descent, aims precisely for this.
More innovation-inclined credit card offers have been launched over the past months, including by new entrants such as Tandem in the UK or Affirm and Tally in the US. Even industry giants like Apple would be getting ready to roll out their credit card offers to grab some market shares. However, mobile-first credit cards remain marginal, however, some companies like FinAccel are aiming for this sector in Asia.