In brief: Amazon finally gives up on banning Visa cards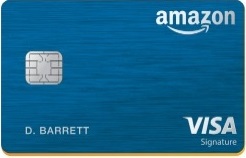 Last November, Amazon threatened Visa, a leading payment provider, with the removal of credit cards from its payment interface on its UK site. This ultimatum followed differences between the two groups over the amount of fees applied by the payment scheme. Finally, a compromise seems to have been reached and will allow Visa to continue to offer these credit cards on the Amazon UK site.
Amazon's decision to ban Visa credit cards on its UK platform, which was supposed to mark the domination of the web giants over the traditional payment players, has been reversed.
The decision, which was intended to protect consumers from rising fees, was due to come into effect on 19 January. It has been cancelled by the web giant, which says that discussions are currently underway with Visa to reduce transaction fees.
An investigation by a British newspaper had estimated that Amazon risks losing nearly £1.4 billion from British buyers
At the same time, FinTech Curve offered its Visa credit card customers the option of using its aggregator card to override Amazon's decision.