Feedback: Fintecture, the payment platform for B2B merchants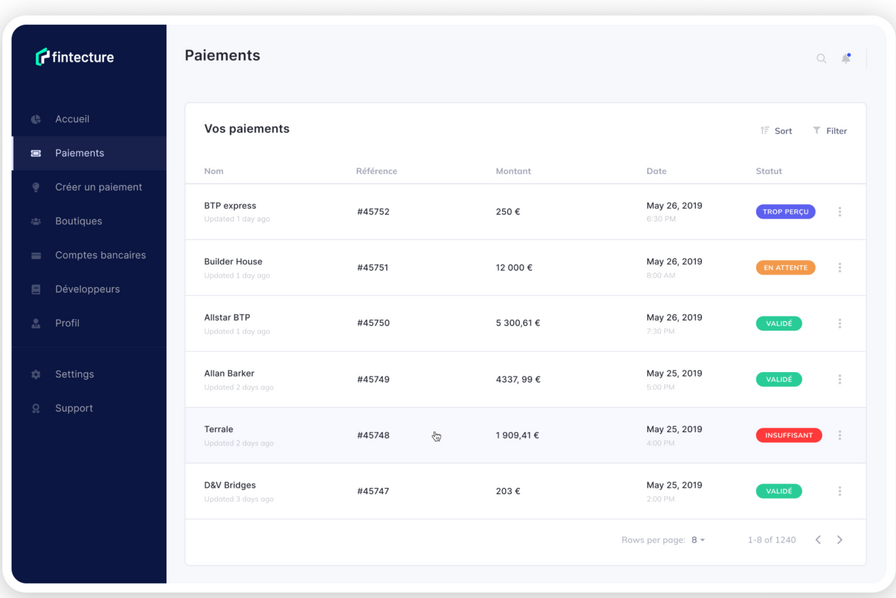 As fintech start-ups lay off staff in a tense economic climate, Fintecture raises €26 million to invest in B2B transactions. The French fintech has developed instant transfer solutions without intermediaries for merchants, based on open banking.
FACTS
Fintecture, a fintech that develops instant bank-to-bank payment solutions without intermediaries for merchants.

It has just announced that it has raised €26 million in several stages this year. This was achieved with Eurazeo, RTP Global, Société Générale, HEC Ventures, Allianz Trade and several business angels.

Launched commercially in March 2020, Fintecture is the first payment platform designed for B2B merchants. Operating in more than 10 European countries, Fintecture supports more than 7,000 businesses in collecting payments from 230,000 payers.

In two years, Fintecture has grown from 7 to 80 employees and plans to recruit another 40 in the next year and a half. 50% of its staff work in R&D.
CHALLENGES
A counter-current fundraising: Fintecture is announcing a particularly high Series A to "accelerate, continue to improve its solutions and their security", confides Faysal Oudmine, Fintecture's CEO, but also to demonstrate its solidity to its partners and anticipate the future by ensuring four years of cash flow to get through the crisis.

Tailored solutions: B2B transactions are characterised by high average baskets, low margins, a need to acquire a good knowledge of the customer (KYC), which often involves time-consuming manual processing, delays in order validation and payment reception, a strong need for reconciliation and disjointed payment paths. Fintecture has developed a range of solutions to address these issues:

The immediate transfer built on an open banking infrastructure that allows account-to-account payments to be made seamlessly without entering an IBAN.

The reconciled transfer transforms the classic bank transfer into an automated payment method. A solution that uses virtual IBAN technology and a proprietary reconciliation algorithm for complete and instantaneous automation of bank transfer processing and tracking.

Guaranteed payment terms: allowing merchants to offer payment terms at no cost to their customers, with a cost 2 to 4 times lower than traditional BNPL and a payment guarantee.

Immediate refund: a solution allowing merchants to make refunds or repayments, particularly adapted to the needs of marketplaces, in an immediate and 100% automated manner.

An international ambition: Even if its main market is currently France, the fintech is developing strongly in Europe and is targeting the United States with a geography-agnostic solution.
MARKET PERSPECTIVE
Last November, Fintecure also launched a "Request to Pay" solution to allow companies to get paid immediately. Fintecture offers its customers 3 simple and cost-effective ways to collect their payments remotely and physically: by email, by payment link or by QR code.

Its solution integrates with its clients' CMS (Prestashop...) via an API, and can also be integrated with accounting software such as Pennylane, Libeo, or Regate. Payment requests can be generated by link or QR code. Fintecture works with Auchan Retail, Edenred and Bricoman.